Tour Description
If you only have a week's holiday, this trip is absolutely perfect for those who want to experience the multi-million-year-old inland ice, glaciers, icefjords and absolutely unique accommodation.
Only two places in the world have inland ice: the Arctic and Antarctica.
Here in the Arctic there are few places where it's possible to camp directly on the Inland Ice Cap. We offer the unique and exciting experience of spending the night in an expedition setting at Camp Ice Cap, accessed from Kangerlussuaq. Wake up to a world of ice!
In Disko Bay you'll experience the beautiful settlement of Ilimanaq and spend a night at the award-winning Ilimanaq Lodge. Another special stay awaits you at Glacier Lodge Eqi, with a view directly towards the active glacier edge of Eqip Sermia. And in Ilulissat you'll be spoiled with an iceberg view of Ilulissat Icefjord, which was added to UNESCO's World Heritage List in 2004.
Highlights
Camp on the million year old, 17 million km2 inland ice
Possibility of seeing muskoxen and reindeer on your way to the ice cap
Stay at the award-winning Ilimanaq Lodge, overlooking Ilulissat Icefjord
Sail past Ilulissat Icefjord, UNESCO World Heritage Site
See the famous Eqi Glacier and stay at Glacier Lodge Eqi
Stay at Hotel Icefiord located right next to Ilulissat Icefjord
Experience a good combination of Kangerlussuaq and Disko Bay
Possibility to see whales among the huge icebergs
In June and July see the midnight sun
Summary
Day 1. Copenhagen - Kangerlussuaq – Inland Ice Tour
On arrival in Kangerlussuaq you'll be driven direct to the Inland Ice, where you'll camp overnight.
Day 2. Inland Ice and Kangerlussuaq
Exploring Greenland's ice cap with a knowledgeable ice guide. Late afternoon you return to 'civilisation' in Kangerlussuaq.
Day 3. Kangerlussuaq - Ilulissat
Scenic domestic flight to Ilulissat and accommodation at Hotel Icefiord.
Day 4. Ilulissat - Ilimanaq
Cruise from Ilulissat to Ilimanaq and accommodation at Ilimanaq Lodge.
Day 5. Ilimanaq - Ilulissat - Glacier Lodge Eqi
Early morning you sail from Ilimanaq to Ilulissat. Then continue with another boat to Eqi Glacier. Accommodation in the wilderness at Glacier Lodge Eqi.
Day 6. Glacier Lodge Eqi - Ilulissat
Free morning in Eqi. Afternoon departure to Ilulissat, where you'll stay at Hotel Icefiord.
Day 7. Ilulissat
Today is free in lovely Ilulissat for optional excursions. We recommend a guided hike to Sermermiut for a magnificent view of Ilulissat Icefjord.
Day 8. Ilulissat - Kangerlussuaq - Copenhagen
Journey home. Short flight Ilulissat-Kangerlussuaq, then change 'planes to Copenhagen.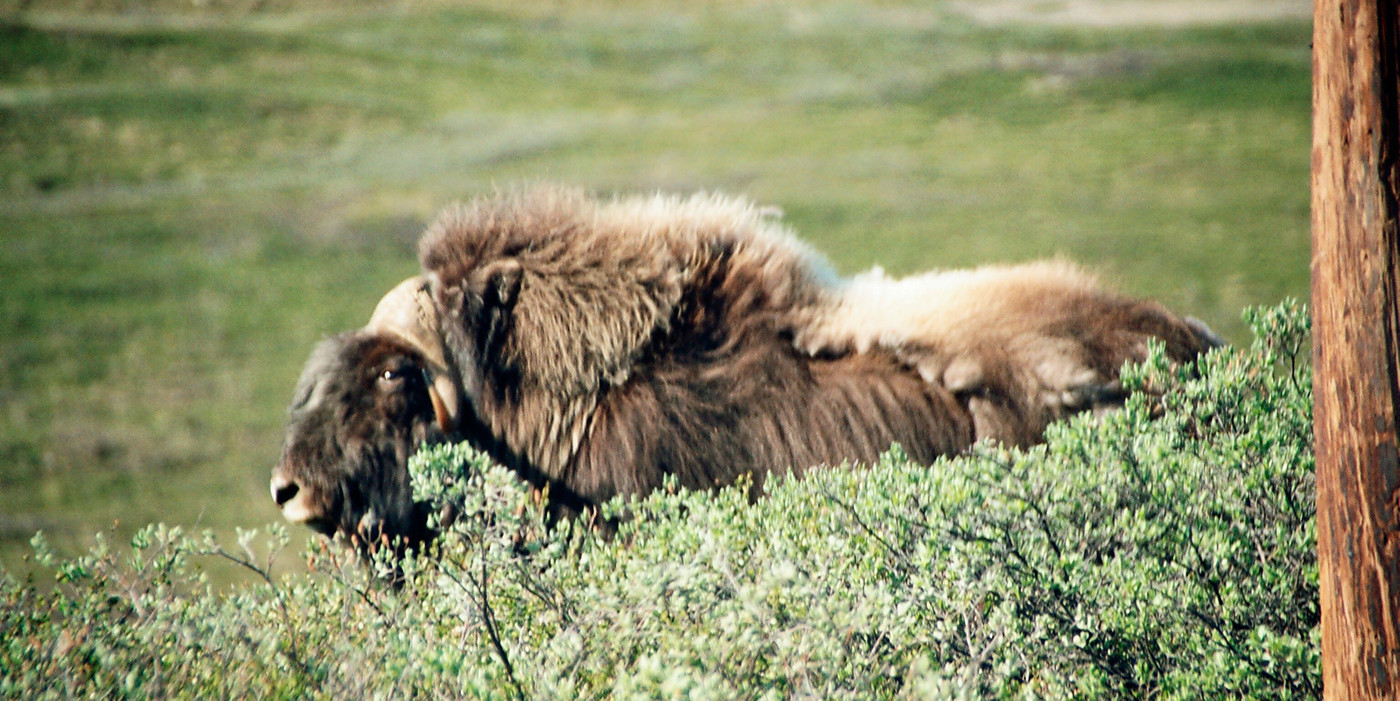 Day 2. Inland Ice and Kangerlussuaq
After an unforgettable night on the ice cap, re-fuel with camp breakfast in the communal tent. Today you'll be guided on a longer ice cap hike with the aim of reaching the beautiful Russel Glacier (weather and ice conditions permitting). You'll have lunch during the hike or back at the camp. Afternoon return to 'civilisation' in Kangerlussuaq with a night at Polar Lodge hostel, where a shower and comfortable bed await you.
This evening we recommend dinner at Restaurant Roklubben, renowned for using locally sourced produce. Ask the staff at Polar Lodge for help with booking and to check if the famous Greenlandic buffet is available this evening. Reservation is required and includes a bus transfer with scheduled departures. The restaurant is located 5 kilometres from Kangerlussuaq, on the bank of Lake Ferguson.
B / L / -
Day 3. Kangerlussuaq - Ilulissat
After breakfast, take the short walk to the airport terminal to check-in for the domestic flight to Ilulissat. Flight time is approx. 45 minutes and in good weather you'll have a spectacular view over Disko Bay and Ilulissat Icefjord shortly before landing.
You'll be transferred by bus from Ilulissat Airport to your comfortable accommodation at Hotel Icefiord.
Icebergs - Giant icebergs are synonymous with the city of Ilulissat. Even the city name means "iceberg" in Greenlandic. The city is located at the mouth of Ilulissat Icefjord with stunning scenery in the form of colossal icebergs. These icebergs are continually calved by the most active calving glacier in the Northern Hemisphere. The icefjord's Greenlandic name is Ilulissat Kangerlua, and it was added to UNESCO's World Heritage List in 2004. Ilulissat has become a must see, even for Greenlanders.
B / - / -
Ilulissat - enourmouse icebergs
For many enthusiasts, Ilulissat (formally Jakobshavn) is considered "the Navel of the World" when discussing travel to Greenland.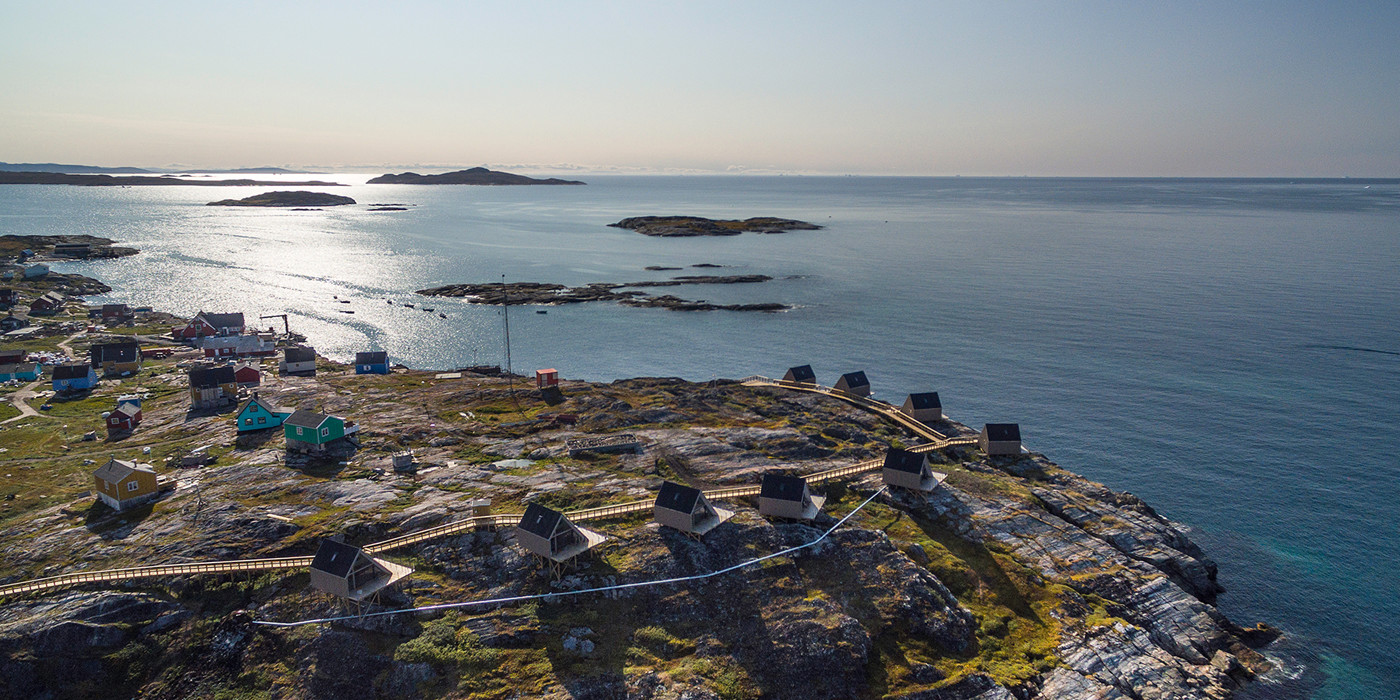 Day 4. Ilulissat - Ilimanaq
Departure after breakfast on an approx. 1 hour boat cruise to Ilimanaq, a settlement located south of the icefjord mouth. A settlement in Greenland typically has a population of 30 to 600 people. All settlements have as a minimum; a school, church, village house (laundry and bathing facilities), bank, post office and nursing station.
With only 53 inhabitants, Ilimanaq is one of the smallest settlements in Greenland.
Ilimanaq Lodge is your home tonight. It was completed in the summer of 2017 and consists of 15 comfortable seafront cabins with balcony. The view is spectacular - icebergs, whales and wide expanses.
B / L / -
Day 7. Ilulissat
Today is at leisure in Ilulissat. You may wish to relax and enjoy the local atmosphere around town, go to a café, visit the museum or a local artisan studio. However, if you'd like to make the most of your time here, we have plenty of optional excursions for you to choose from. As a minimum we recommend a guided hike to Sermermiut, where you'll have a fantastic view across Ilulissat Icefjord.
Interested in more excursions? Look here.
B / - / -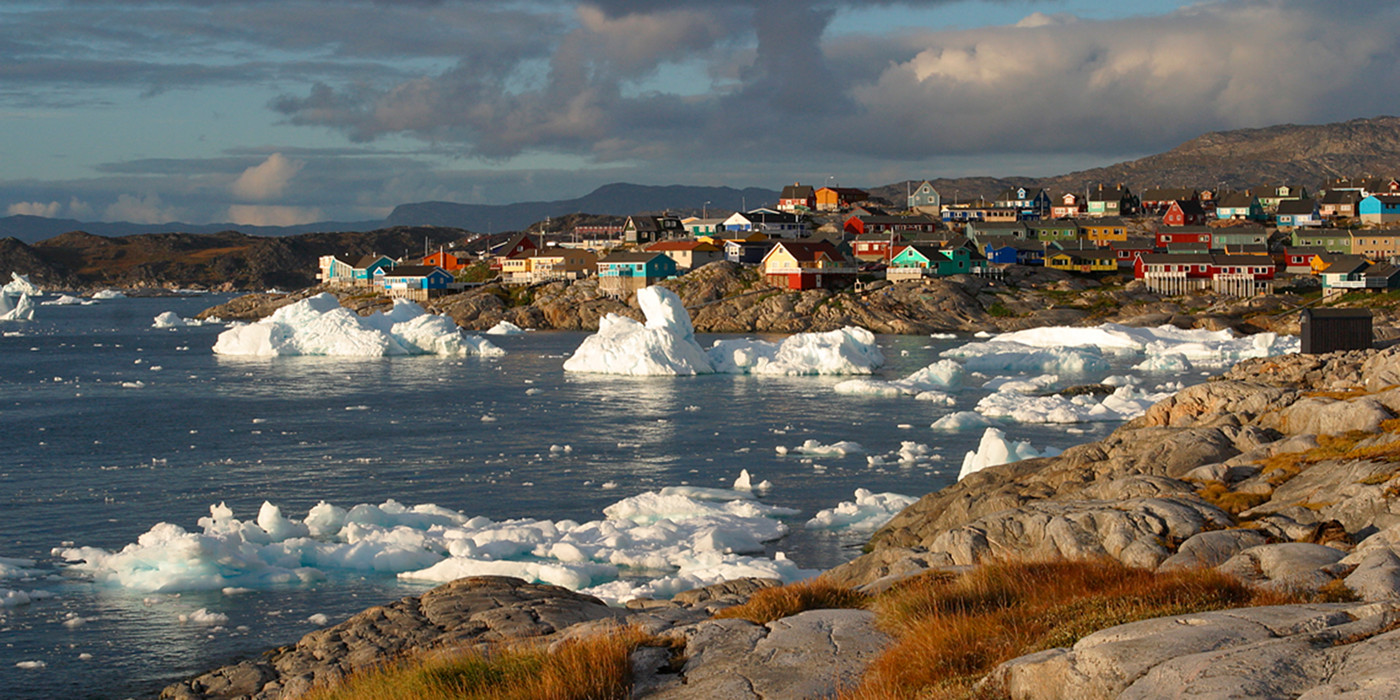 Day 8. Ilulissat - Kangerlussuaq - Copenhagen
Your adventure in Greenland is now over, but the memories and learning experience will last a lifetime.
A short scenic flight will take you back to Kangerlussuaq where you connect on an Air Greenland trans-Atlantic flight to Copenhagen. Anticipated arrival around 20:00 hrs (8 pm) local time.
As we say in Greenlandic, Takuss' - see you later!
B / - / D
NOTE! – Would you like to extend the journey?
If you would like more days to fully explore and experience our wonderful part of the world, we have excellent knowledge of Greenland and can tailor an itinerary according to your wishes. Please contact us for information.
Price Includes
Flights Copenhagen (Denmark, Europe) - Kangerlussuaq (Greenland) - Ilulissat (Greenland) incl. taxes
Flights Ilulissat (Greenland) - Kangerlussuaq (Greenland) - Copenhagen (Denmark, Europe) incl. taxes
1 night on the Ice Cap in shared 2 person tent incl. full board during the ice trip, tent, sleeping bag and guided walks on the ice
1 night at Polar Lodge, Kangerlussuaq in shared double room incl. breakfast and shared bathroom / toilet in the hallway
3 nights at Hotel Icefiord, Ilulissat in shared double room incl. breakfast, private facilities and transportation on arrival / departure
Boat cruise: Ilulissat-Ilimanaq-Ilulissat-Eqi-Ilulissat
1 night in Ilimanaq Lodge, Ilimanaq in 2 person seafront cabin incl. breakfast
1 night at Glacier Lodge Eqi, in 2 person standard cabin incl. full board
Contribution to the Travel Guarantee Fund
Price Excludes
Meals, except those specifically mentioned in "Price Includes"
Optional Excursions
Tour guide (this trip is on your own)
Travel and cancellation insurance
Single room supplement of 4,500 DKK. However, this is not possible in Ilimanaq and Eqi
Please note: The price of this trip is a base-level estimate calculated on a certain category of seat on the flights and room / cabin category of accommodation. The actual price for your travel date may differ, according to availability at time of booking. Please confirm with us any possible surcharges at the time of making your booking.
If you need further explanation, please feel free to contact us.
Meals
Included meals are marked with B (breakfast), L (lunch), D (dinner) on each day.
If meals are not included, these are marked with -.
On Air Greenland flights between Denmark and Greenland, free meals and drinks are served on board. On domestic flights in Greenland, a cup of coffee and a biscuit is typically served.
Access to Electricity
It's possible to charge digital camera batteries at the hotels (with your own charger). However, access to electricity cannot be offered at Glacier Lodge Eqi, as electricity is only produced for short periods during the day by a generator, or at Camp Ice Cap. We recommend you bring extra (charged) batteries for the nights in Eqi and the Ice Cap.
Mobile Phone
Mobile phone coverage is sparse during this trip, so there will only be limited opportunities to use your phone.
IMPORTANT NOTE!
The programme is subject to change without notice. A trip like this is dependent on good weather. There may therefore be some changes in the programme. Delays and cancellations may occur, especially in air and ship transportation.
No compensation is granted for the first 24 hours of delay or travel changes due to external circumstances. We will strive to reduce the disruption as much as possible and endeavour to provide an alternative programme or fill in the additional waiting time.