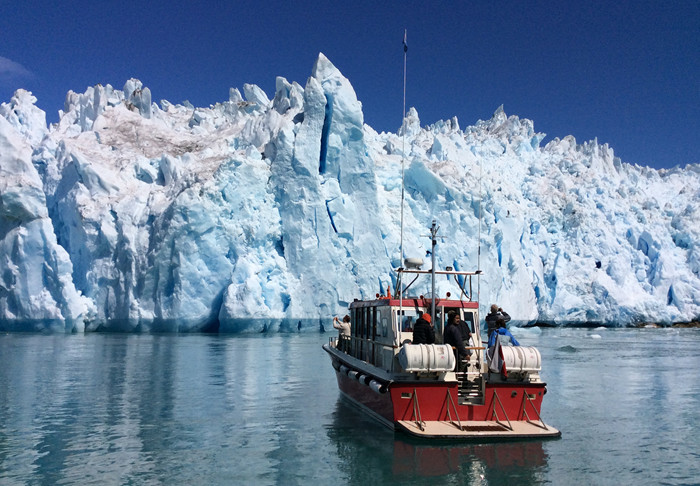 Boat Excursion to the Inland Ice (Tvillingebræen)
From Qaqortoq the boat cruises north, past the town of Narsaq and across Ikerssuaq Fjord, zig-zagging through the water to dodge the many drifting icebergs which come from the Greenland Ice Sheet.
The destination is a reasonably accessible glacier tongue known locally as Tvillingebræen, which means the Twin Glacier. Once on land, walking a few hundred metres will enable visitors to touch the ice. From here its possible to observe how much the ice has receded over the past few decades. Back in the 1980s, the glacier actively calved directly into the fjord.
The different colours of ice cap are clearly visible here, contrasting with the water, the mountains and the sky. This is one of the most photogenic places in South Greenland. The return journey to Qaqortoq passes bird cliffs and a small waterfall.
Price: DKK 1,400 - per person
Duration: Approx. 4½ hours
Minimum 4 participants required
Includes: Boat trip with approx. 1 hour on land to explore on your own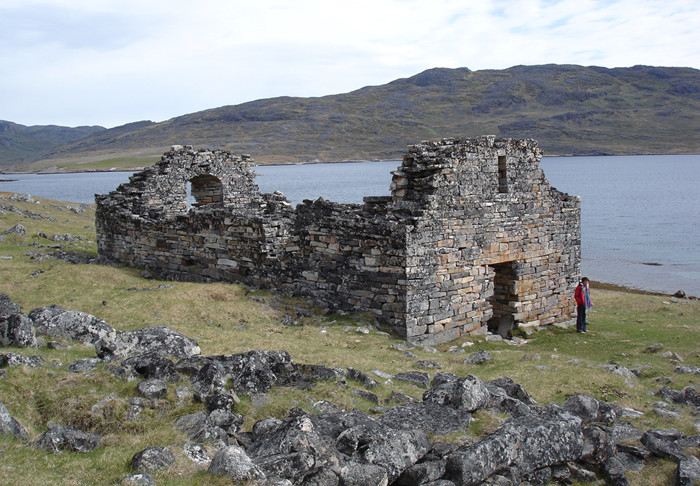 Hvalsø Church Ruin (excursion by boat)
Hvalsø is the site of the largest, most famous and best preserved Norse ruin in Greenland. It is now an important feature of South Greenland's UNESCO World Heritage Listed area.
Christianity was introduced to Greenland in approx. 1,000 and shortly after, church construction began. Hvalsø church ruin dates from the early 1300s and is quite large in comparison to other churches in Greenland at that time.
In the year 1408 a wedding is mentioned in various documents, and is the last known account from the Norse in Greenland.
This excursion takes you on a lovely half hour cruise in the fjord from Qaqortoq, sheltered from the open sea and beautifully surrounded by high mountains and green fields.
Price: DKK 750 - per person
Duration: Approx. 2 hours
Includes: Boat trip and information leaflet about the Church ruins
With a population of approx. 3,500 inhabitants, Qaqortoq is the largest city in South Greenland and is the main city in Kujalleq municipality.
This is a city in rapid development.
Next to the municipality building, a new courthouse was recently opened.
The road to a yet to be opened new airport has been completed.
The high school and trade school were recently combined to form Campus Kujalleq.
The city is full of public art and colourful personalities around the streets.
The few restaurants and cafes are well-attended as people catch up on each other's lives. This is a very social place.
As with many cities in South Greenland, there are plenty of opportunities for short or long walks with varying levels of difficulty.
A short boat trip from Qaqortoq will take you to the UNESCO World Heritage Sites of Hvalsø Church Ruin and the beautiful Uunartoq hot springs (bring your swimsuit), as well as the inland fjord system. This is a very attractive region to travel by boat.
Dog sledding: No
Midnight sun in the summer: No, but long hours of daylight
Northern Lights (Aurora Borealis): Yes, in a dark sky and with suitable atmospheric conditions
Packages going to Qaqortoq