Nuuk
Nuuk lies at the far end of a peninsula, at the mouth of the large fjord system that makes up Godthåbsfjorden. Nuuk is the oldest town in Greenland and was founded by the Danish-Norwegian missionary Hans Egede in 1728.
Today, Nuuk is by far the largest city in Greenland with approx. 18,000 inhabitants, being 25% of the country's total population. Of that, half of Nuuk's residents were born outside Greenland. Nuuk is also one of the smallest capitals in the world. Despite the small population and isolation, Nuuk is developing into the Nordic region's new cultural capital. It is a colourful and dynamic city, surrounded by magnificent Arctic nature, but also as a city full of contrasts, where ancient traditions and modern culture meet. The capital of Greenland is thus, a fantastic place to learn about the country's culture. It's also a popular starting point for travel, cruises, excursions and other expeditions around Greenland.
Even today, Nuuk's past is evident. Around Kolonihavnen (the colonial harbour) there are many buildings from the colonial period. Most notable are The Greenland National Museum and Archive, Greenland's Cathedral, known as the Church of Our Saviour from 1849, as well as Hans Egede's House from 1728. Egede's house is built of painted yellow stone and is actually Greenland's first European style house. This building is today listed as an historic monument and is used for official government receptions.
Hans Egede's Mission
Hans Egede was born in Norway in 1686 into a family of priests and merchants. His father was a Danish-born civil servant, Povel Hansen Egede. Hans Egede studied theology at the University of Copenhagen and worked as a Lutheran priest in the Lofoten Islands in Norway. It was here that he became aware of the story of the Norsemen, the Icelanders who settled in Greenland during the Viking Age.
He asked King Frederik the 4th of Denmark and Norway for permission to travel to Greenland as a missionary. He assumed the Norsemen, who had not been heard from since the 15th century, were still Catholics. Frederik gave conditional permission to re-establish colonial rights to the island. In 1721 a private company known as Bergenskompagniet was formed, which gained a monopoly on trade in support of the mission's work. It was during this time that ships with colonists arrived in West Greenland, including Hans Egede and his family.
The crews went ashore and founded the colony Håbets Ø (The Island of Hope), not far from present day Nuuk. Soon after his arrival in Greenland, Egede began to look for the Norse with the hope of re-establishing contact. His search was unsuccessful, so instead, he embarked on missionary work among the area's Inuit people. His observations at the time noted a rather alien way of life and religious practises lead by shamans.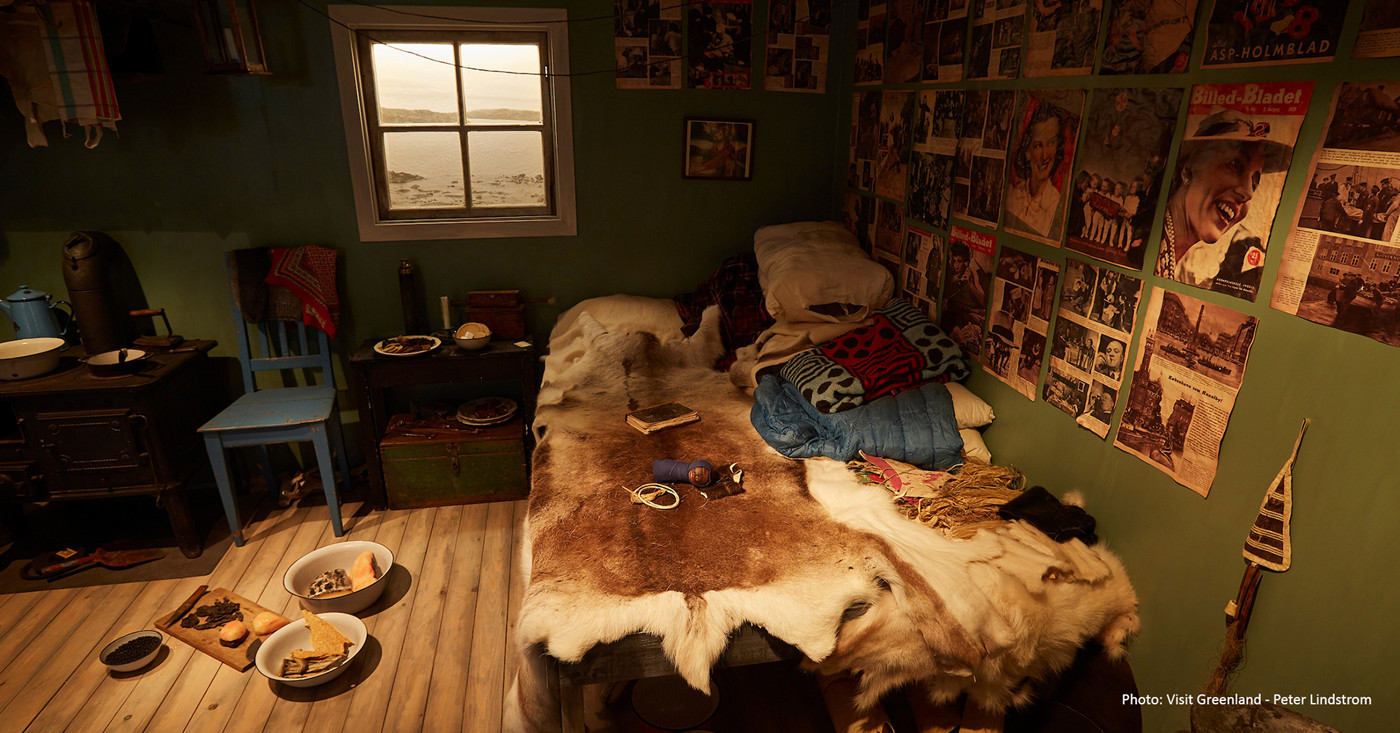 Hans Egede's Time in Nuuk
Poor whaling and insufficient trade with the Greenlanders, lead to Bergenskompagniet's bankruptcy in 1727. Håbets Ø was not an ideal place for the mission either and in 1728 the colony moved to Godthåb (current Nuuk) and a new attempt to colonise the country with soldiers and convicts was initiated. The colonisation attempt failed due to the high cost and other factors, so in 1731 King Christian VI ordered the colonisation to stop and all Europeans to leave the country. Despite this, Hans Egede was extremely dedicated to the task and insisted on staying. He felt called by God and would not give up his life's work.
However, the language barrier was a big challenge for him. It was important for him to ensure the Greenlanders fully understood the Christian message, before they were baptised. Therefore, he set out to learn Greenlandic and threw himself fearlessly into his missionary work. Hans Egede's two sons, Niels (1710-1782) and Poul (1708-1789), both grew up in Greenland and quickly learned the language.
In 1733 a smallpox epidemic broke out, which spread rapidly. Hans Egede saw his life's work perish, as hundreds of the newly Christianised Greenlanders died from the disease. Then in 1735 his wife, Gertrud, died. Depressed, Hans Egede left Greenland in 1736, leaving behind his son Poul, who continued his missionary work in Greenland. Together with some Greenlandic assistants, Poul Egede produced the first Greenlandic translation of the New Testament in 1766, as well as a dictionary of the Greenlandic language. This development was of great importance for the development of Greenlandic literature.
In 1740 Hans Egede was awarded an honorary title as Bishop of Greenland and he held that office until 1747.
The Legacy of Hans Egede
Despite the difficulties Hans Egede experienced in Greenland, his missionary work contributed to today's Greenlanders being among the most church-going Christian peoples in the world. About 95 percent of the population are members of the Lutheran Church.
A large statue of Hans Egede stands on a prominent hillside in the capital Nuuk. Today he is often described as the 'Apostle of Greenland' for his initial missionary work. Opinions about Hans Egede and his efforts in the colonisation of Greenland have, however, been a controversial topic in recent years. The statue was the subject of much debate in the summer of 2020, after it was vandalised with red paint and the text 'decolonize' written across the plinth. In spite of divided opinions, a vote among Nuuk's citizens ruled that the statue is to remain in place for now.
Tours with a stay in Nuuk