Tour Description
Travel by boat from Qaqortoq in the south, to Disko Bay in the north.
For us, this 'Ultimate Greenland trip' allows you to experience the places we think represent the best of Greenland.
The voyage takes you 1,200 km up the west coast of Greenland on M/S Sarfaq Ittuk.
You'll be enchanted by South Greenland's green-blue fjords and verdant nature, Norse history and sheep farming.
Halfway through the cruise you'll spend a full day in Greenland's vibrant capital, Nuuk.
Nuuk is a place of contrasts. It's one of the world's smallest capital cities. It is both modern and traditional. Overall, it's a city in rapid development.
In Disko Bay you'll have a daily dose of icebergs and glaciers, with the bonus of staying in unique and lovely accommodation while you get your ice-fix.
You can hike and relax at Disko Island and explore at 'Glacier Lodge Eqi' where you'll enjoy the sights and sounds of the glacier at close range. In the iceberg capital, Ilulissat, you'll have a sea view room at Hotel Icefiord, of course!
Highlights
Sail the turquoise blue fjords of South Greenland
Experience the contrast between culture, agriculture, history and raw nature
1,200 km of sailing along the west coast of Greenland
Experience the special atmosphere aboard M/S Sarfaq Ittuk while travelling with locals
Observe the differences between a Greenlandic 'big city' and a small settlement
A full day in Nuuk, Greenland's capital and largest city
View whales in Disko Bay right from your accommodation
Disko Island with "black sand beaches" and mountains made be vulcanic activity
2 UNESCO World Heritage Sites: Kujataa and Ilulissat Icefjord
Glacier Lodge Eqi at the active glacier
Ilulissat - the iceberg capital and main city of Disko Bay
Summary
Day 1. Copenhagen - Narsarsuaq - Qaqortoq
Morning direct flight from Copenhagen to Narsarsuaq in South Greenland. Scenic ferry trip from Narsarsuaq to Qaqortoq.
Day 2. UNESCO World Heritage Site: Hvalsø Church Ruin. Evening departure for your M/S Sarfaq Ittuk coastal cruise
Today you have an excursion by boat visiting 2 of Greenland's UNESCO World Heritage destinations. In the evening you'll board M/S Sarfaq Ittuk for your cruise north to Ilulissat.
Day 3. M/S Sarfaq Ittuk: At Sea
Today's port visits: Arsuk, Paamiut and Qeqertarsuatsiaat.
Day 4. M/S Sarfaq Ittuk: Nuuk
You have the whole day to explore Greenland's vibrant capital, Nuuk.
Day 5. M/S Sarfaq Ittuk: At Sea
Today's port visits: Maniitsoq, Kangaamiut and Sisimiut.
Day 6. M/S Sarfaq Ittuk: Arrival in Disko Bay
Sunday morning the ship calls at Aasiaat. From here you board a smaller vessel to Disko Island.
Day 7. Disko Island 
Black beaches and colourfull houses. Hike to Kuaniit often we spot whales on the way.
Day 8. From Disko Island to Ilulissat by boat
A couple of hours sailing on Diskobay brings us to Ilulissat. View to enourmous icebergs on the way.
Day 9. Ilulissat - Glacier Lodge Eqi
Morning departure from Ilulissat. We go by boat to the fabulous Glacier Lodge Eqi.
Day 10. Glacier Lodge Eqi - Ilulissat
Afternoon departure from Glacier Lodge Eqi to Ilulissat.
Day 11. Ilulissat
Day free in Ilulissat to explore the Iceberg Capital.
Day 12. Ilulissat - Kangerlussuaq - Copenhagen
Journey home. Fly from Ilulissat via Kangerlussuaq to Copenhagen.
Day 1. Copenhagen - Narsarsuaq - Qaqortoq
The flight duration is about 4½ hours to Narsarsuaq in South Greenland. The airport facilities were originally developed as an American military base. The runway is located at the end of Eriksfjord, between the turquoise blue water and the inland ice. As always in Greenland, the landing offers a spectacular view in clear weather. The difference here is that the view of iceberg filled fjords includes sheep farms and other agriculture dotted around the coast.
On arrival in Narsarsuaq you'll be transferred by bus the short distance to the small harbour, where you'll board the Disko Line ferry to South Greenland's largest 'city', Qaqortoq.
The sailing trip takes approx. 2 to 5 hours, depending upon which boat is in service today.
In Qaqortoq you'll be staying at Hotel Qaqortoq in the centre of the city, with a lovely view of Julianehåb Fjord and the harbour. Qaqortoq has about 3,500 inhabitants and is an important education centre for South Greenland. It's said to be one of the most photogenic cities in Greenland, with beautiful small private gardens surrounding the colourful houses.
- / L / -
Qaqortoq.
If you come by boat, as you navigate towards Qaqortoq through Julianehåb Fjord, you'll see the many colourful houses which the city is famous for.
Day 2. UNESCO World Heritage Site: Hvalsø Church Ruin. Evening departure with M/S Sarfaq Ittuk
Today you'll visit 2 of the 5 UNESCO World Heritage sites in South Greenland.
"Kujataa Greenland" is a sub-Arctic agricultural landscape consisting of 5 sub-areas of South Greenland at the edge of the ice sheet, which was admitted to UNESCO's World Heritage List in 2017. Among the sights is Hvalsø Church Ruin, only 30 minutes from Qaqortoq. You'll learn a little of the Norse (Viking) history and the wedding which took place here in 1408 – the last known documented evidence of the Norse in Greenland.
In 1992, Greenland's late governor, Jonathan Motzfeldt, was married here.
This evening you depart Qaqortoq aboard the beloved Arctic Umiaq Line ferry, M/S Sarfaq Ittuk. Sailing northwards, you'll be comfortable in your outside cabin, but don't forget to be on deck for the departure. Watch the locals bid farewell to family and friends – it can be quite a spectacle!
In a couple of hours you'll reach Narsaq.
Today's port calls:
Departure from Qaqortoq 19:00
Narsaq 21:00 - 21:30
B / - / -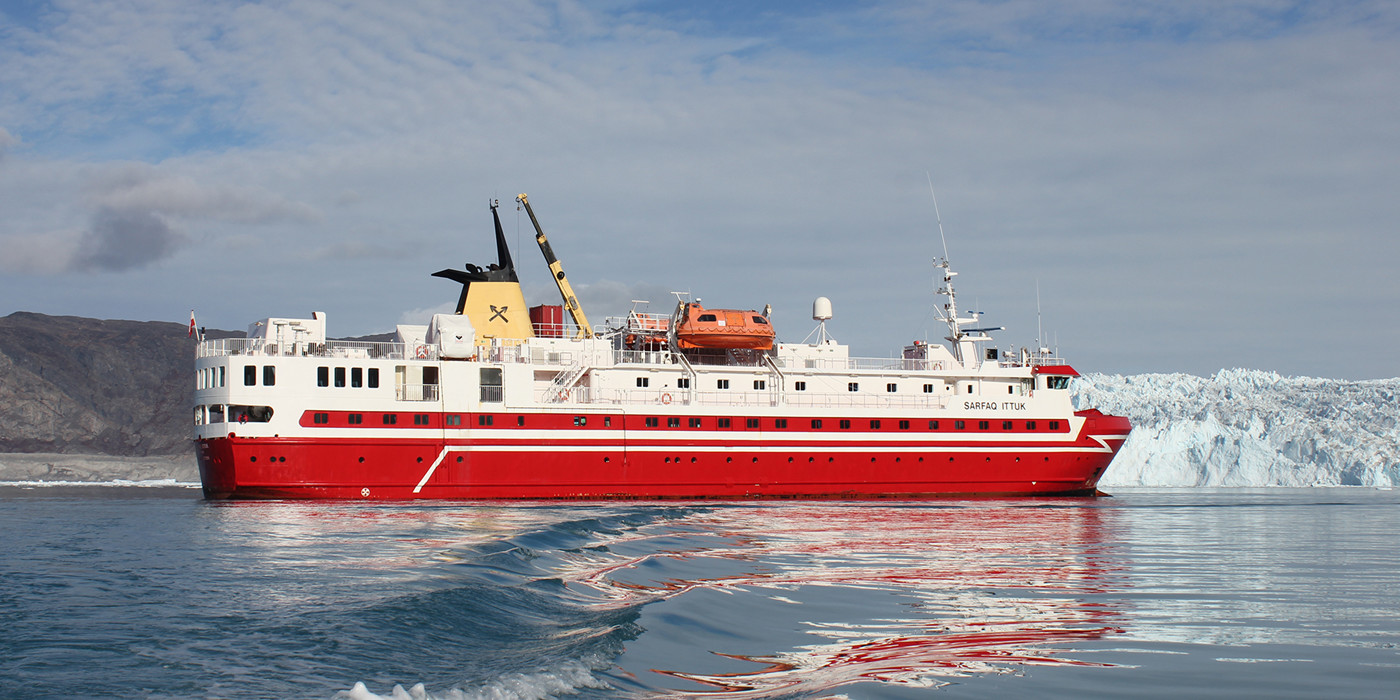 Day 3. Arsuk, Paamiut and Qeqertarsuatsiaat (at sea)
The ship sails through the night with arrival off Arsuk early this morning. Due to the small harbour size, the ship doesn't come into port, however the town is visible from the deck.
From Arsuk the ship travels to Paamiut, with arrival around 14:00 hrs (2 pm).
After a 30 minute stop you sail to Qeqertarsuatsiaat with arrival at 22:15 hrs (10:15 pm).

Life aboard M/S Sarfaq Ittuk
In the summer there is a guide on board to provide tourist-friendly information along the way, as well as lectures and walks in some of the ports of call.
The ship's aft salon also houses a cinema where movies are shown several times a day.
There are sofas and chairs so you can sit and admire the view from large panoramic windows. It's a popular place for locals to relax and socialise, and they're particularly fond of the on board massage chair – probably the massage chair with the world's best view!
Today's port calls:
Arsuk 06:45 - 07:00
Paamiut 14:00 - 14:30
Qeqertarsuatsiaat 22:15 - 22:30
- / - / -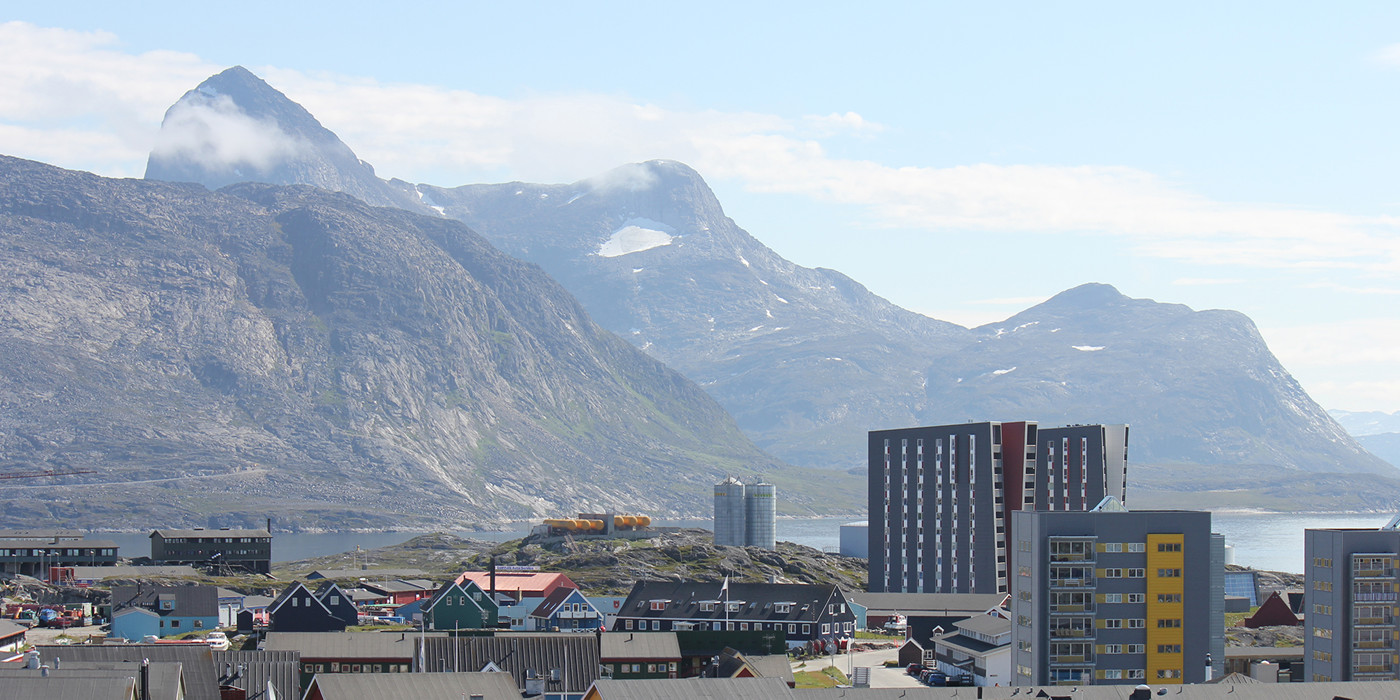 Day 4. Nuuk
The ship sails through the night towards Greenland's capital, Nuuk. Arrival in port this afternoon. You have 8 hours to explore Nuuk. The guide on board has arranged a shared tour of the city, which we recommend you join.
Nuuk is a vibrant city, especially on Fridays when the locals are eager to head out into the nature with their boats. Despite what seems to be an isolated location, there are shops, restaurants, buses and rush hour traffic.
At the old colonial harbour you'll find the excellent National Museum, the beautiful Mother of the Sea sculpture, the Hans Egede statue, Hans Egede's house and numerous other points of interest.
The city is surrounded by one of the world's largest fjord systems – the beloved playground for Nuuk's citizens. On weekends many head into the fjord to camp in their favourite spot. Some have cosy cabins and some sleep on their boats. Fishing and hiking are popular activities in fine weather.
You must be back on board the ship by 20:30 hrs (8:30 pm) latest. Departure from Nuuk is at 21:00 hrs (9 pm). You'll see new faces on board this evening, as those who disembarked in Nuuk are replaced by new travellers.
Today's port calls:
Nuuk 07:30 - 21:00
- / - / -
Nuuk.
Nuuk is much more than Greenland's capital city. When you look around, you'll see you're surrounded by beautiful nature. Mountains and fjords share the view with manmade structures.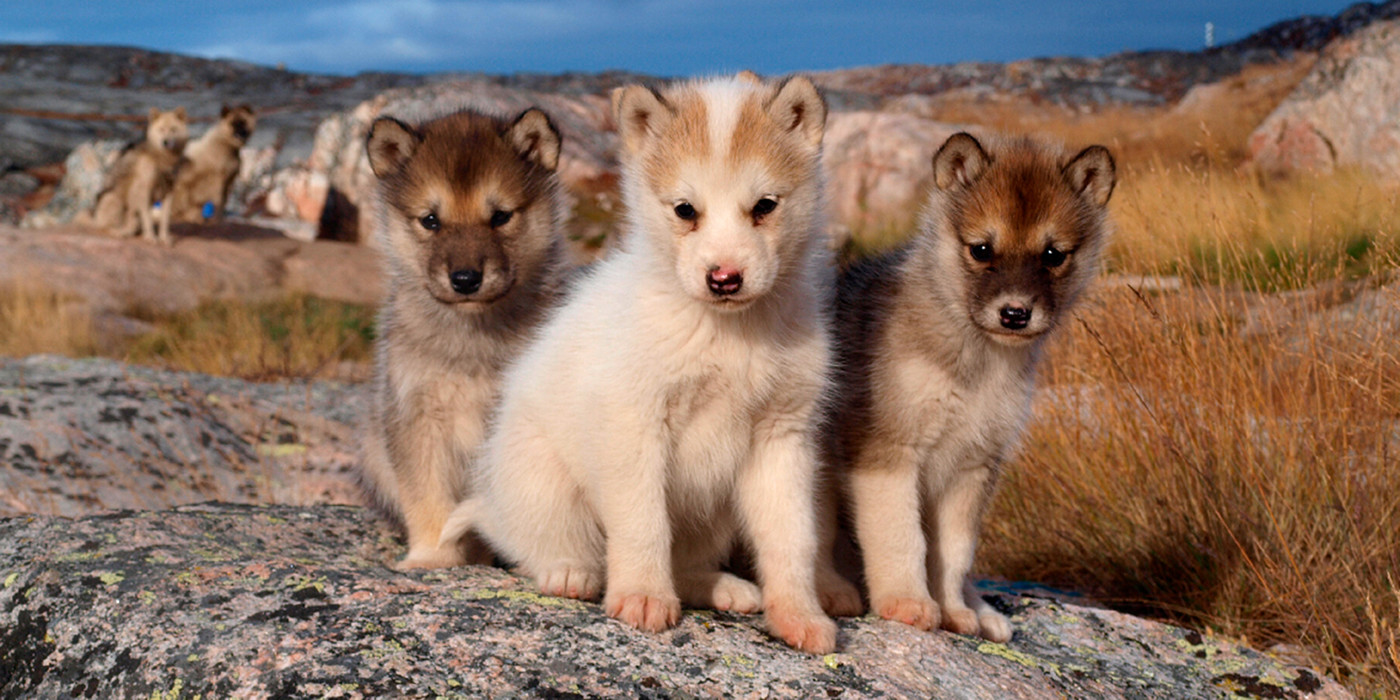 Day 5. Maniitsoq - Kangaamiut - Sisimiut
This morning the ship arrives in Maniitsoq, commonly referred to as "the Venice of Greenland" by locals, due to the small natural canal-like channels in the surrounding archipelago. Approx. 2,800 people live in Maniitsoq. The city is located on an island at the mouth of Hamburgsund, surrounded by high mountains, deep fjords and glaciers. The ship sails slowly here, and if the weather is good, most people are out on deck enjoying the view. If the crew spot whales, they usually make an announcement so you don't miss them.
Shortly before dinner the ship arrives off the coast of Kangaamiut. Unable to land passengers directly here, smaller vessels are used for ship to shore transport.
Evening arrival in Greenland's second largest city, Sisimiut. Beautifully situated among high mountains, the city has approx. 5,600 inhabitants, known for their independence and entrepreneurship.
One such entrepreneur is a woman from South Greenland who has opened a shop called Qiviut. Qiviut is the Greenlandic name for musk wool, which is warmer than sheep wool and softer than cashmere. For the ultimate Greenlandic souvenir, you can buy beautiful Qiviut clothing and other Greenland-related goods, so it's definitely worth a visit.
Today's port calls:
Maniitsoq 07:00 - 08:00
Kangaamiut 11:30 - 11:45
Sisimiut 19:00 - 21:00
- / - / -
Day 6. Aasiaat – Disko Island
When you wake this morning the vessel will already be heading to Disko Bay, with plenty of opportunities to see whales and lots of seals.
By 08:00 hrs (8 am) the ship will arrive in Aasiaat, where you disembark M/S Sarfaq Ittuk.
You have a couple of hours in Aasiaat to explore.
We recommend a stroll to the black church and also the assembly house, where you can "peek" through the window and see some of renowned Danish artist Per Kirkeby's paintings.
From Aasiaat you board a smaller vessel to Disko Island
At Disko Island you'll be staying at Hotel Disko, which is located with a view to harbour and the stunning mountains behind.
Today's port calls:
Aasiaat arrival 08:00 hrs
- / - / -
Day 8. Qeqertarsuaq - Ilulissat
We sail across Disko Bay from Qeqertarsuaq to Ilulissat. The city is known for the huge icebergs from the Kangia ice fjord. Take a walk along the coast and you will see huge icebergs as far as the eye can see. The very large icebergs grounder on the underwater moraine next to the coast - easy to explorer right from land. Between the many icebergs you can see local fishermen looking for a catch of halibut or seal. Often you can also see humpback whales, fin whales and, if you're lucky, greenlandic whales. You will spend the night at Hotel Icefiord, a beautifully situated hotel right on the coast with a view from all rooms to Disko Bay. PS: The hotel's restaurant is incredibly popular also for the locals, so remember to book a table.
B / - / -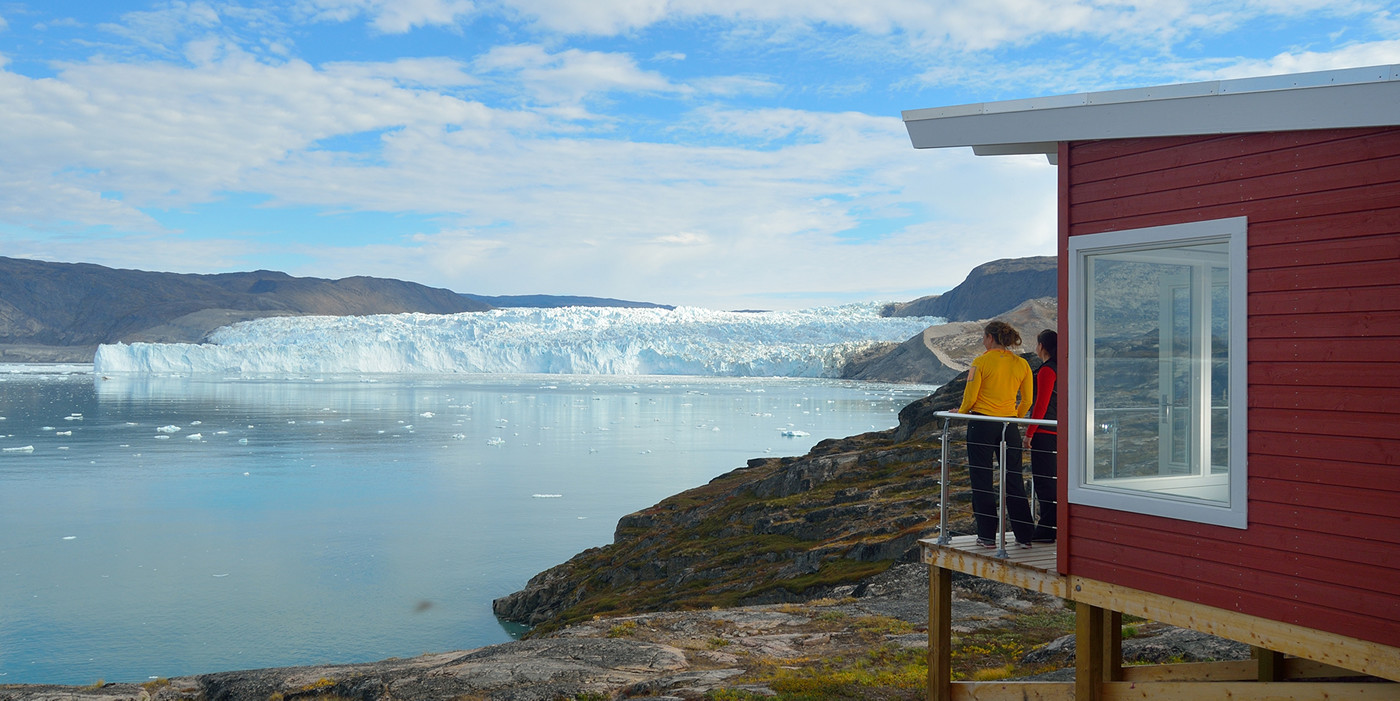 Day 10. Glacier Lodge Eqi - Ilulissat
Breakfast and lunch are served at Glacier Lodge Eqi. For those who wish, after breakfast there is a beautiful hike to the glacial moraine. Walk past the lagoon to the front of the glacier and bring your lunch sandwich from Café Victor. Enjoy your little picnic seated in the front row at the old edge of the moraine, overlooking the deep ice slopes of the glacier.
The hiking trip typically takes about 4 hours, returning to Glacier Lodge Eqi in time for the cruise back to Ilulissat. The boat departs Eqi at 14:00 hrs (2 pm), with arrival in Ilulissat around 19:00 hrs (7 pm).
Two nights at Hotel Icefiord. The hotel hosts a good restaurant, but if you'd like something different, Ilulissat has a variety of eateries from cafes to 4-star restaurants.
B / L / -
Day 12. Ilulissat - Copenhagen via Kangerlussuaq
Your Greenland travels have come to an end and it's time for you to return home.
A short scenic flight will take you to Kangerlussuaq where you connect on an Air Greenland trans-Atlantic flight to Copenhagen.
B / - / D
As we say in Greenlandic, Takuss' - see you later!
NOTE! – Would you like to extend the journey?
If you'd like more days to fully explore and experience our wonderful part of the world, we have excellent knowledge of Greenland and can tailor an itinerary according to your wishes.
Please contact us for information.
Price Includes (in shared double room / cabin / lodge with private facilities)
Flight Copenhagen(Denmark, Europe) - Narsarsuaq (Greenland) incl. taxes
Flight Ilulissat (Greenland) - Kangerlussuaq (Greenland) - Copenhagen (Denmark, Europe) incl. taxes
Sailing with Disko Line: Narsarsuaq-Qaqortoq
1 night at Hotel Qaqortoq (Qaqortoq) incl. breakfast and transport on arrival / departure
4 nights on board M/S Sarfaq Ittuk in an outside cabin without meals
Ship's Guide on board M/S Sarfaq Ittuk - only JUNE - JULY - AUGUST
Sailing in Disko Bay: Aasiaat-Disko Island-Ilulissat-Glacier Lodge Eqi-Ilulissat
2 nights at Hotel Disko (Qeqertarsuaq) incl. breakfast
1 night at Glacier Lodge Eqi (Eqi) in standard cabin (lodge) incl. full board
3 nights at Hotel Icefiord (Ilulissat) incl. breakfast and transfer on arrival / departure
Excursions: Hvalsø Church Ruin from Qaqortoq
Price Excludes
Meals, except breakfast at the hotels, full board at Glacier Lodge Eqi and meals on the Atlantic flights
Excursions, except those specifically mentioned in 'Price Includes'
Tour guide (this trip is on your own)
Travel and cancellation insurance
Single room supplement / cabin allowance, DKK 10,000
Please note: The price of this trip is a base-level estimate, calculated on a certain category of seat on the flights and room / cabin category of accommodation. The actual price for your travel dates may differ, according to availability at the time of booking. Please confirm with us any possible surcharges at the time of making your booking.

If you need further explanation, please feel free to contact us.
Meals
Included meals are marked with B (breakfast), L (lunch), D (dinner) on each day.
If meals are not included, these are marked with -.
On Air Greenland flights between Denmark and Greenland, free meals and drinks are served on board. On domestic flights in Greenland, a cup of coffee and a biscuit is typically served.
Access to Electricity
It's possible to charge digital camera batteries at the hotels and on M/S Sarfaq Ittuk (with your own charger). However, access to electricity cannot be offered at Glacier Lodge Eqi, as electricity is only produced for short periods during the day by a generator. We therefore recommend you bring extra (charged) batteries for the nights in Eqi.
Mobile Phone
Mobile phone coverage is sparse during this trip, so there will only be limited opportunities to use your phone.
IMPORTANT NOTE!
The programme is subject to change without notice. A trip like this is dependent on good weather. There may therefore be some changes in the programme. Delays and cancellations may occur, especially in air and ship transportation.
No compensation is granted for the first 24 hours of delay or travel changes due to external circumstances. We will strive to reduce the disruption as much as possible and endeavour to provide an alternative programme or fill the additional waiting time.