Tour Description
We call this trip a "unique round tour" because you're guaranteed many special experiences on the route that takes you from one unique place to the next.
The round tour begins in Qasigiannguit, where you have the opportunity to see one of Greenland's best museums, and whales swim right outside the door of your hotel.
Ilimanaq is one of the smallest villages in Greenland but nevertheless a beautiful place with outstanding views. Located just south of Ilulissat Icefjord, the new Ilimanaq Lodge consists of 15 comfortable seafront cabins with large balconies. You can enjoy meals in Restaurant Egede, located in a recently restored historic house and specialising in locally sourced produce.
Ilulissat is, on the other hand, a "big city" in Greenland. With its icefjord filled with huge icebergs, and as polar scientist Knud Rasmussen's birthplace (b.1879 d.1933), Ilulissat is one of Greenland's main tourism destinations.
Glacier Lodge Eqi is particularly special. All cabins face the active glacier Eqip Sermia. Completely isolated from the outside world and without mobile interference, you can immerse yourself in nature and experience the rugged Greenlandic wilderness in peace.
Highlights
UNESCO World Heritage site
Eternal daylight: Midnight sun
Accommodation in a village: Ilimanaq Lodge
Accommodation in the wilderness: Glacier Lodge Eqi
Possibility to walk on the inland ice at Glacier Lodge Eqi
Opportunities to see whales in Disko Bay
Beautiful walk to Sermermiut and Ilulissat Icefjord
Historical and cultural experiences in the Ilimanaq district
Summary
Day 1. Copenhagen - Ilulissat via Kangerlussuaq
Sit back and relax on your 4 hour, 40 minute flight across the Atlantic to Kangerlussuaq. From here you continue on a domestic flight to Ilulissat.
Day 2. Ilulissat - Qasigiannguit
Sail from Ilulissat to Qasigiannguit, past the UNESCO World Heritage Site called Ilulissat Icefjord. You have an excellent chance to see whales, especially when the boat approaches Qasigiannguit.
Day 3. Qasigiannguit - Ilimanaq
Enjoy Qasigiannguit at your own pace. Here you'll find one of Greenland's best museums, some good local walks, or take a moment to rest on one of the town's many benches - always with a great view. This afternoon you sail to Ilimanaq.
Day 4. Ilimanaq
Full day to explore the beautiful area around you. There are many lovely walks of varying distance from the village. We recommend at least a "Kaffemik" visit with a local family - a very special experience.
Day 5. Ilimanaq - Ilulissat - Glacier Lodge Eqi
Early boat departure from Ilimanaq via Ilulissat to Eqi. Remember warm clothing (layers are best) as most of the day will be spent on a boat. There is the possibility to see seals and whales along the way.
Day 6. Glacier Lodge Eqi (camp)
All day at leisure for excursions. You can do your own thing or choose one of the excursions from the camp. We definitely recommend an excursion that takes you all the way to the inland ice.
Day 7. Glacier Lodge Eqi - Ilulissat
Spend the morning in the camp and peaceful surrounds. Afternoon boat departure to Ilulissat. During the cruise you can enjoy a cup of coffee and a piece of cake with the best views, including the glacier.
Day 8. Ilulissat
Day at leisure to explore Ilulissat city and surroundings. We recommend a visit to UNESCO's World Heritage Listed Sermermiut and Ilulissat Icefjord as a minimum.
Day 9. Departure
Farewell beautiful Greenland. Flight from Ilulissat to Kangerlussuaq, and onwards to Copenhagen.
Click here to see the detailed daily itinerary
NOTE! If you would like more days in Ilulissat, please contact us. We will tailor the itinerary according to your wishes.
Day 1. Copenhagen - Ilulissat via Kangerlussuaq
Your adventure begins with a flight of approx. 4 hours and 40 minutes from Copenhagen to Kangerlussuaq, where you change to a smaller aircraft for your onward flight to Ilulissat. While preparations for landing are made, the spectacular UNESCO World Heritage Listed Ilulissat Icefjord comes into view. Now you can see that the icebergs really are huge!
You'll be transferred by bus from Ilulissat Airport to your accommodation at Hotel Icefiord, where you'll be staying in a sea view room.
The rest of the day is on your own. The hotel has a restaurant and Thai take away.
- / L / -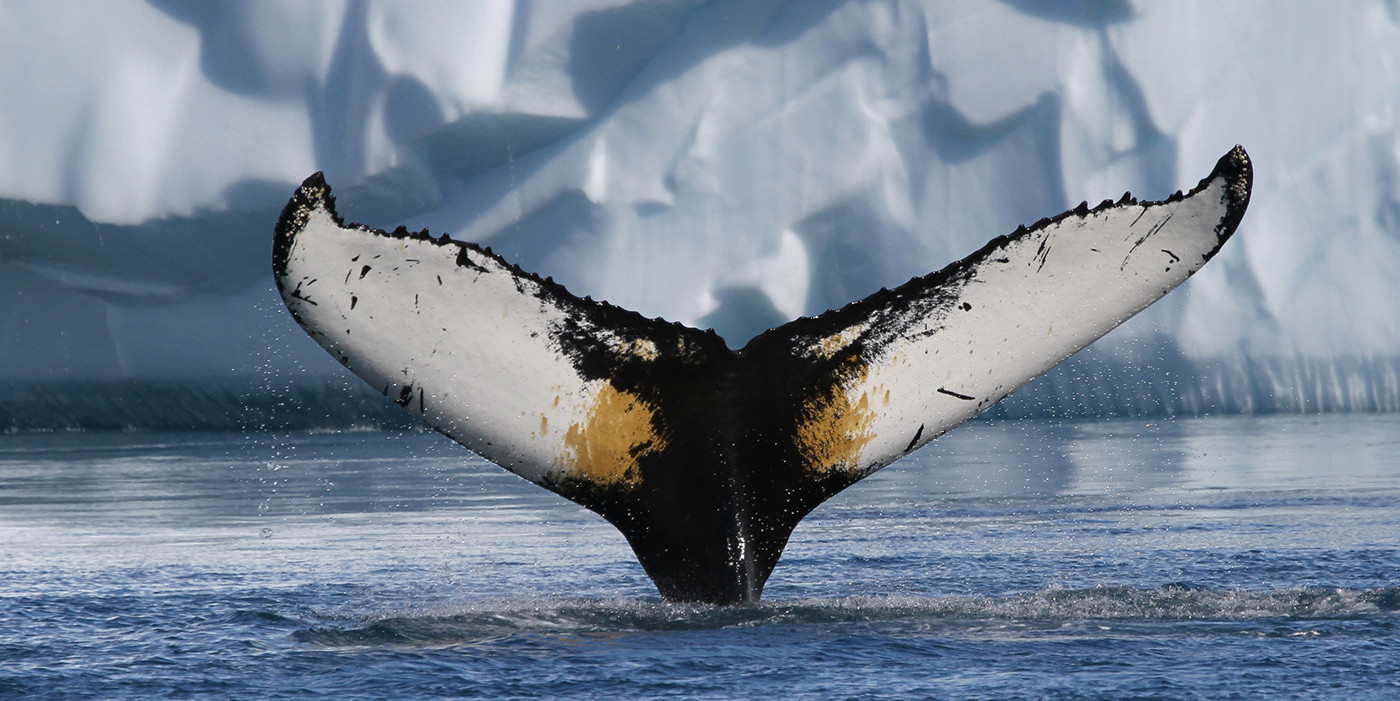 Day 2. Ilulissat - Qasigiannguit
Early morning departure by Disko Line ferry to Qasigiannguit. The southbound sailing route to Qasigiannguit takes you through scenery you observed from the air 2 days ago. The trip takes about 3 hours and there are good opportunities to see whales and seals along the way.
In Qasigiannguit you'll be picked up by Hotel Diskobay's bus and driven to the hotel. Welcome to Qasigiannguit and to the city's approx. 1,100 inhabitants. From the hotel's balcony you can enjoy views of Disko Bay and Disko Island, where whales often jump from the water just below the hotel. It's almost an exception if you do not see a whale during your stay at Hotel Diskobay.
You have the whole afternoon free to explore. We recommend a visit to the outstanding local museum. It houses an extraordinary collection of items dating back to the Saqqaq culture (approx. 4000 years ago), as well as the more modern history of the region. There are green benches dotted around the town, strategically located for enjoying the lovely views.
B / - / -
Qasigiannguit.
In Qasigiannguit the Midnight Sun shines around the clock during summer, and in winter the Northern Lights (Aurora Borealis) dance in the night sky.
Day 4. Ilimanaq (Lodge)
Day at leisure. Excursion possibilities include at nature walk; a village tour; or visit a Greenlandic family for 'Kaffemik', the traditional and fun coffee with a friendly chat. If you prefer to sit and immerse yourself in the beautiful view, the balcony of your cosy cabin is ideal for relaxation.
See Ilimanaq excursions here.
B / - / -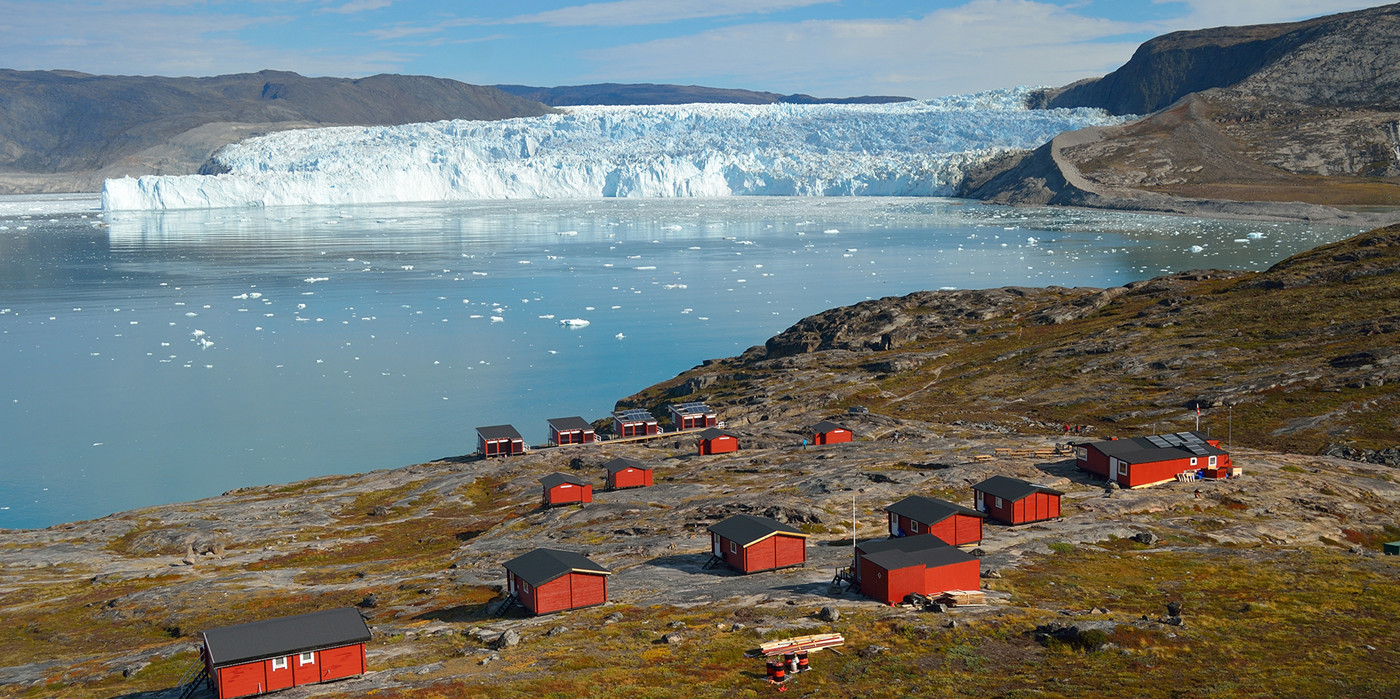 Day 6. Glacier Lodge Eqi
Surrounded by nature, just being at the lodge is enjoyable, but you also have the unique opportunity to visit the inland ice. It's a humbling experience to view the meltwater flowing off the great Greenland icecap.
See the description of the excursion here
B / L / D
Day 7. Glacier Lodge Eqi - Ilulissat
Breakfast and lunch are served at Glacier Lodge Eqi. For those who wish, after breakfast there is a beautiful hike to the glacial moraine. Walk past the lagoon to the front of the glacier and bring your lunch sandwich from Café Victor. Enjoy your little picnic seated in the front row at the old edge of the moraine, overlooking the deep ice slopes of the glacier. The hiking trip typically takes about 4 hours, returning to Glacier Lodge Eqi in time for the cruise back to Ilulissat. The boat departs Eqi at 14:00 hrs (2 pm). Coffee and cake are served on board, with arrival in Ilulissat around 19:00 hrs (7 pm). Two more nights at Hotel Icefiord. The hotel hosts a good restaurant, but if you'd like something different, Ilulissat has a variety of eateries, from cafes to 4-star restaurants.
B / L / -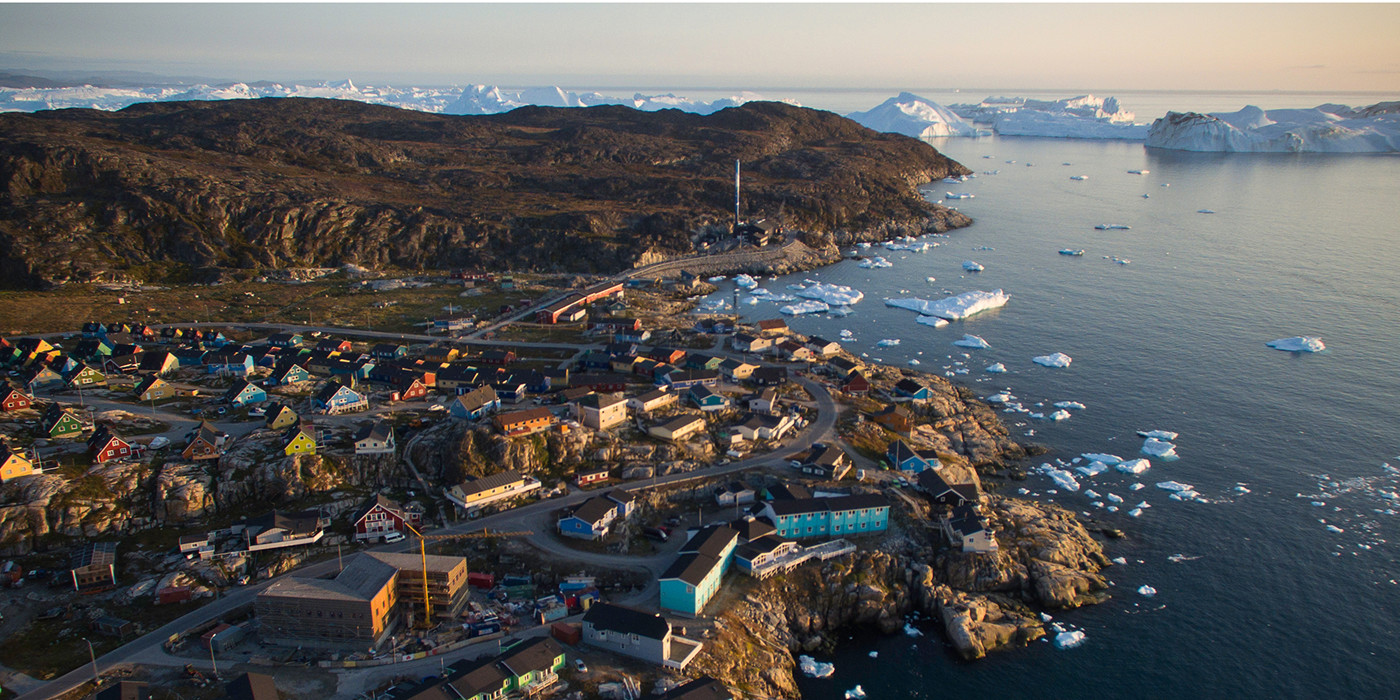 Day 8. Ilulissat (UNESCO)
You have the day at leisure to form your own impression of the city.
Ilulissat Icefjord was admitted to UNESCO's World Heritage List in 2004, and was one of the first areas in the Arctic to be placed on the list. Although the area is protected, we have special permits to sail among the icebergs and fly helicopter tours.
There is a range of excursions you can participate in. You can do a sightseeing tour or a beautiful hike to the old Inuit settlement at Sermermiut. If you'd like to see a little more from the air, you can take a tour by helicopter or small 2-engine airplane. Both flight trips are great for photographers and offer a very different and memorable perspective.
See Ilulissat excursions here
B / - / -
Ilulissat - enourmouse icebergs
For many enthusiasts, Ilulissat (formally Jakobshavn) is considered "the Navel of the World" when discussing travel to Greenland.
Day 9. Ilulissat - Kangerlussuaq - Copenhagen
Filled with unique impressions and memories of a lifetime, it's now time for your return home. Enjoy your last look at Disko Bay and the UNESCO protected Ilulissat Icefjord, before your short flight to Kangerlussuaq. In Kangerlussuaq you'll board Air Greenland's Airbus, for your flight back to Copenhagen.
B / - / -
As we say in Greenlandic, Takuss' - see you later!
NOTE! – Would you like to extend the journey?
If you would like more days to fully explore and experience our wonderful part of the world, we have excellent knowledge of Greenland and can tailor an itinerary according to your wishes. Please contact us for information.
Price Includes
Flights Copenhagen (Denmark, Europe) - Kangerlussuaq (Greenland) - Ilulissat (Greenland) incl. taxes
Flights Ilulissat (Greenland) - Kangerlussuaq (Greenland) - Copenhagen (Denmark, Europe) incl. taxes
3 nights at Hotel Icefiord (Ilulissat), in shared double room incl. breakfast
1 night at Hotel Diskobay (Qasigiannguit), in shared double room incl. breakfast
2 nights at Ilimanaq Lodge (Ilimanaq), 2 person seafront cabin incl. breakfast
2 nights at Glacier Lodge Eqi (Eqi), 2 person standard cabin incl. full board (start and finish with lunch)
Transport from / to airport and hotel (Ilulissat)
Sailing: Ilulissat-Qasigiannguit-Ilimanaq-Ilulissat-Eqi-Ilulissat
Contribution to the Travel Guarantee Fund
All taxes and charges
Price Excludes
Meals, except meals on Atlantic flights and meals specifically mentioned in "Prince Includes"
Excursions except those specifically mentioned in "Price Includes"
Tour guide (this trip is on your own)
Travel and cancellation insurance
Single room / cabin supplement of 6,400 DKK. However, this is not possible in Ilimanaq and Eqi
Please note: The price of this trip is a base-level estimate, calculated on a certain seat category for the flights and room/cabin category for the accommodation. The actual price for your travel date may differ, according to availability at the time of booking. Please confirm with us any possible surcharges at the time of making your booking.
If you need further explanation, please feel free to contact us.
Meals
Included meals are marked with M (breakfast), L (lunch), D (dinner) on each day.
If meals are not included, these are marked with -.
On Air Greenland flights between Denmark and Greenland, free meals and drinks are served on board. On domestic flights in Greenland, a cup of coffee and a biscuit are typically served.
Access to Electricity
It's possible to charge digital camera batteries at the hotels (with your own charger). However, access to electricity cannot be offered while staying at Glacier Lodge Eqi, as electricity is only produced for short periods during the day by a generator.
We recommend you bring extra batteries (charged) for the nights in Eqi.
Mobile Phone
Mobile phone coverage is sparse during this trip, so there will only be limited opportunities to use your phone.
IMPORTANT NOTE!
The programme is subject to change without notice. A trip like this is dependent on good weather. There may therefore be some changes in the program. Delays and cancellations may occur, especially in air and ship transportation.
No compensation is granted for the first 24 hours of delay or travel changes due to external circumstances. We will strive to reduce the disruption as much as possible and endeavour to provide an alternative program or fill in the additional waiting time.