Tour Description
This tour is for those who dream of experiencing dog sledding in the Greenlandic winter.

The sun has finally woken from its winter slumber, with days gradually getting longer over the next couple of months. Dog sledding in the beautiful Greenlandic winter landscape is a very special experience, particularly if you're lucky enough to view the Aurora Borealis (Northern Lights) too!

Ilulissat is a great starting point for dog sledding tours, with about 3,000 dogs eager and ready to give visitors from abroad the experience of a lifetime.
Highlights
Visit Greenland's famous 'Iceberg Capital' in its winter glory
Introduction to dog sledding in beautiful surroundings
Overnight stay in a traditionel igloo
Hiking trip with snowshoes
Discover that the Aurora Borealis (Northern Lights) can be a noisy, quiet and wild experience!
See a UNESCO World Heritage Listed destination, Ilulissat Icefjord
Possibility to sail among giant icebergs in the icefjord
Take amazing photos of the snowy landscape and huge icebergs
Learn about polar scientist Knud Rasmussen in his birthplace, which is today a museum
Experience the fastest and most beautiful sunsets
Summary
Day 1. Copenhagen - Ilulissat via Kangerlussuaq
In just over 4½ hours your flight over the North Atlantic arrives in Kangerlussuaq. Your connecting flight of 45 min. takes you further north to Ilulissat in Disko Bay.
Day 2. Ilulissat - Dogsledding
This day is set aside for your dog sledding experiences near Ilulissat.
Day 3-4. Igloo Lodge
Snowmobile ride into the hinterland of Ilulissat. Explore the winter landscape on a guided hike with snowshoes. Overnight stay in Igloo Lodge with amazing views to the beautiful Northern Lights in the wilderness.
Day 5. Ilulissat - enormous icebergs and northern lights.
Experience Ilulissat and the Kangia Icefiord
Day 6. Ilulissat - Copenhagen via Kangerlussuaq
Journey home, with an early departure from Ilulissat and a late arrival in Copenhagen.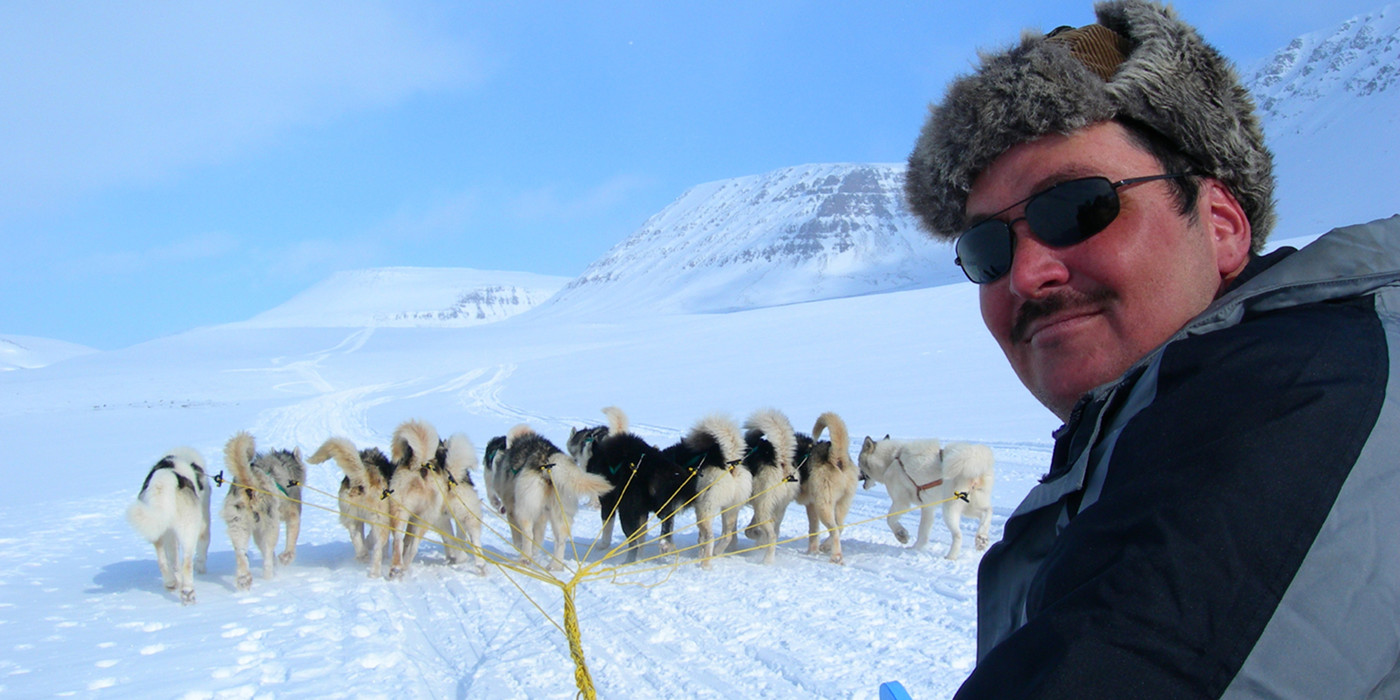 Days 2. Ilulissat - Dog Sledding
During your time here we've organised a 2 hour introductory dog sledding experience.
The dog sled is one of the best known icons of Greenland – a 2000 year old Inuit tradition. Not many means of transport have endured over such a long period of time. The basic principle is still the same as before the Viking Age: Dogs in harness tied to a simple wooden sleigh. The experience cannot be explained — it must be tested!
Ilulissat is Greenland's third largest city with approx. 5,000 human inhabitants and 3,000 sled dogs. The icefjord and huge icebergs draw visitors from all over the world.
Ilulissat Icefjord was admitted to UNESCO's World Heritage List in 2004, and was one of the first areas in the Arctic to be placed on the list. Although the area is protected, we have special permits to sail among the icebergs and offer helicopter tours.
From January to March it is possible to see the Aurora Borealis (Northern Lights), weather and solar conditions permitting. If it's cloud-free and dark enough, you have a very good chance of seeing them. Just go outside and look up – they're free!

B / - / -
Day 3-4. Igloo Lodge
From Ilulissat we'll take you along on a 15 kilometer long (approx. 9 miles)  with PistenBully, that will lead us into the winter hinterland. We will speed our way through valleys surrounded by snow-covered mountains and across ice lakes.
As we drive over a hill top, we reach out hut. Next to the hut lie our traditional igloos. This will be the base for your stay at Igloo Lodge.
From here on, our lodge staff will brief you on everything about your stay, and thereafter a delicious lunch made with traditional Greenlandic ingredients will be served for your enjoyment.
During the course of the day we will strap on our snow shoes and take you along on a hike.
During the entire stay we will of course make sure you have a modern winter sleeping bag, to ensure the experience is at its best.
Programme:

Day 1:
10.00-11.30 By PistenBully to Igloo Lodge.
13.00 Lunch at the cabin.
14.00-16.00 Guided snowshoe hike to the lookout point above the Kangia ice fjord
16.00-19.00 Time on yor own. Plenty of hiking opportunities.
19.00 Dinner and coziness
20.00 Coffee and tea and looking for Northern Lights 

Day 2:
08.00-09-00 Breakfast 
09.00-10.30 Return to Ilulissat by PistenBully

B/L/D + B/-/-
Day 5. Ilulissat - Sightseeing - Icefiord Cruise.
Today we you will have a guided tour to Sermermiut. A walk along the coast of Ilulissat from where you will have a view over Kangia Icefiord. The famous Icefiord with the Icebergs, big as Cathedrals.
Duringe the day or early evening we will go saling among the big icebergs. If they (Icebergs) looked big from the coasts, they look enourmoues when we get close. With some luck, the northern light will dance on the sky, for those going on the evening tours.
See the various excursion options in Ilulissat here.

B/-/-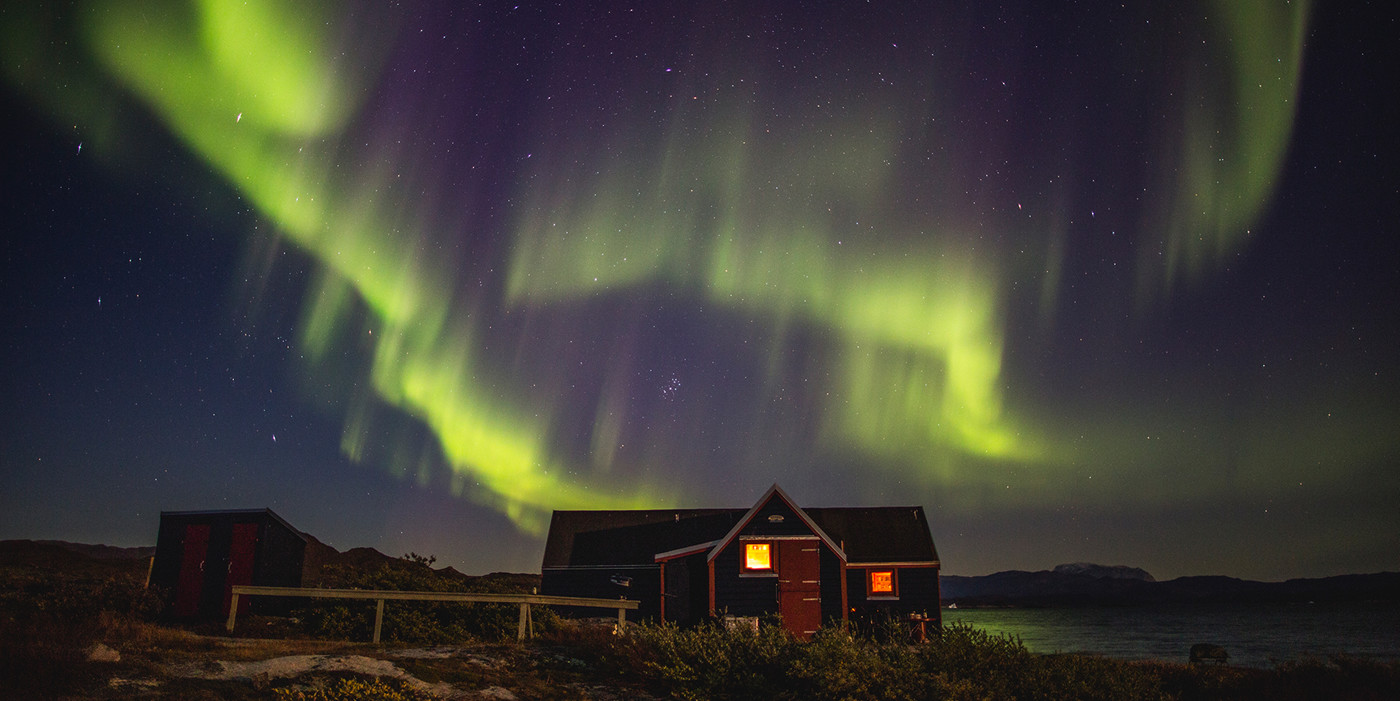 Day 6. Ilulissat - Copenhagen via Kangerlussuaq
Now dog sledding in Ilulissat is on your travel CV as an unforgettable experience.

Return home today with a morning departure from Ilulissat and evening arrival in Copenhagen. Remember there is a 4 hour time difference between Greenland and Denmark.
B / - / -
NOTE! – Would you like to extend the journey?
If you would like more days to fully explore our wonderful part of the world, we have excellent knowledge of Greenland and can tailor an itinerary according to your wishes. Please contact us for information
Price Includes
Flights Copenhagen (Denmark, Europe) - Kangerlussuaq (Greenland) - Ilulissat (Greenland) incl. taxes
Flights Ilulissat (Greenland) - Kangerlussuaq (Greenland) - Copenhagen (Denmark, Europe) incl. taxes
4 nights at Hotel Icefiord (Ilulissat) in shared double room incl. breakfast
1 overnight stay in Igloo Lodge. PistenBully transfer, snowshoe hike and full board incl.
Transport from / to airport and hotel (Ilulissat)
Guided excursions: 2 hour Dog Sledding (2 people per sled) tour and Inuit Legends Saga Evening
Sermemiut hike - guided
Icefiord cruise among icebergs
Contribution to the Travel Guarantee Fund
All taxes and charges
Price Excludes
Meals, except breakfast and meals on the Atlantic flight
Other excursions except those specifically mentioned in "Price Includes"
Hire of sealskin anorak (jacket), trousers and boots. Sealskin anorak and trousers DKK 125 per day. Baffin / Sorel boots DKK 65 per day. Please indicate European size when booking.
Tour guide (this trip is on your own). There is staff at Igloo Lodge. 
Travel and cancellation insurance
Single room supplement of 2,325 DKK
Please note: The price of this trip is a base-level estimate, calculated on a certain category of seat on the flights and room/cabin category of accommodation. The actual price for your travel date may differ, according to availability at the time of booking. Please confirm with us any possible surcharges at the time of making your booking.
If you need further explanation, please feel free to contact us.
Meals
Included meals are marked with B (breakfast), L (lunch), D (dinner) on each day. If meals are not included, these are marked with -.
On Air Greenland flights between Denmark and Greenland, free meals and drinks are served on board. On domestic flights in Greenland, a cup of coffee and a biscuit is typically served.
General information on dog sledge transportation
To keep you safe from accidents and hypothermia and to secure an ideal ride on dog sledge it is important to have these few rules mentioned below in mind.
The sledge driver will often run next to the sledge or "hang" over the railing in the rear of the sledge. In most cases the sledge driver will sit in front of the sledge to make it easy for him to get on and off. Thus the passengers sit in the rear end of the sledge.
Passengers are faced in the driving direction.
If you pass flat terrain you can shift position and sit across the sledge.
Place your legs on the sledge to prevent your feet from hitting rocks and ice.
In rough terrain or up hill, hold on to the wire/ropes on the sledge. NEVER hold on to the side of the sledge as this can cause injuries to your fingers if they are caught under the sledge.
In rough terrain you can help the sledge driver with the balance by leaning to the opposite side of where it heels to.
When driving on ice you will now and then pass cravasses in the ice. It is important to stay on the sledge (unless the driver gives other specific information) as it is usually easier to pass these cravasses sitting on the sledge.
During steep ascents it may be necessary to step of the sledge and walk next to it until the ascent is over.
If it is cold you should every now and then step off the sledge to run/walk next to it.
Never approach the dogs without permission from the driver.
Never give leftovers from lunchboxes to the dogs.
Always use sunglasses and remember sun lotion with high factor. The sun lotion should not be water based due to the frost.
Camera and video equipment are best kept underneath the clothes to secure the batteries against the cold.
Food is best kept underneath the jacket or packed in between clothes where it can be kept frost-proof
About Igloo Lodge
The Igloo Lodge is made up of 6 spacious igloos, each with room for 2 persons.
All necessary equipment is included.
All meals are included.
The igloos are readily furnished with sheepskin, warm sleeping bags, as well as candles to make your stay in the igloo warm and cozy. 

This combination of a good layer underneath with the warm winter sleeping bags, along with the fantastic insulating function of the igloos themselves, make it possible for you to stay overnight at one with nature. 

Our cozily heated wooden beam hut is the centerpiece of it all and it is here we enjoy our meals. However, if you feel too cold during the night, you have the opportunity to sleep in the communal cabin. 
The wooden hut has bunk beds and a kitchen.
The wooden hut also houses a dry toilets

Our hut offers back up, for those who would like to sleep in a bunk bed instead of our Igloo's. We do have more capacity in our Igloo's than bunk beds. To be sure to have a back up bunkbed, a fee will be charged. (Please ask for this back up, at booking)
Access to Electricity
It's possible to charge digital camera batteries at the hotel (with your own charger).
Mobile Phone
Mobile phone coverage is sparse during this trip, so there will only be limited opportunities to use your phone.
Physical Requirements for Travelers in Greenland
Greenland is hilly and uneven, and the weather basically determines everything in Greenland. The locals are used to this, but as visitors to the country it can be a challenge if you are not adequately prepared for the conditions. On the other hand, if you are aware of this, you can look forward to an unforgettable journey in one of the world's most beautiful countries.
As a starting point, we expect of you as a traveler: that you are physically self-reliant. You should be able to carry your luggage from the bus to your room, from port to ship (aboard a ramp) and from the bus to the airport building.
IMPORTANT NOTE!
The programme is subject to change without notice. A trip like this is dependent on good weather. There may therefore be some changes in the programme. Delays and cancellations may occur, especially in air and ship transportation.
No compensation is granted for the first 24 hours of delay or travel changes due to external circumstances. We will strive to reduce the disruption as much as possible and endeavour to provide an alternative programme or fill in the additional waiting time.