Tour Description
This trip takes you to the inland ice just 50 km above the Arctic Circle in Kangerlussuaq, and further North to the iceberg capital, Ilulissat.
Around Kangerlussuaq, experience the unique hinterland between the sea and the permanent ice cap - Greenland's largest ice-free region. Excursions offer opportunities to see Greenland's most diverse terrestrial fauna, including muskoxen and reindeer, plus an unforgettable trip walking on the Greenland Ice Cap.
Then fly north to Ilulissat, in Disko Bay. Ilulissat is synonymous with huge icebergs and you'll experience them from land and sea in all shapes and sizes at the mouth of Ilulissat Icefjord. The sun doesn't rise from November 29 to January 13th. From mid-January the days become gradually lighter and longer until 19th May, when the sun doesn't fully set at all. During this period you can experience the Midnight Sun in Ilulissat and Disko Bay until July 22nd.
Highlights
Walk on the edge of the 1.7 million km2 inland ice
Possibility to see muskoxen and reindeer in the Kangerlussuaq hinterland
Fill up with Vitamin D the natural way
Boat trip among huge icebergs and walk at a UNESCO World Heritage Site (Ilulissat Icefjord)
See the Midnight Sun shine over the icefjord
Possibility to taste local produce at beautifully located restaurants
Summary
Day 1. Copenhagen - Kangerlussuaq
Fly from Copenhagen to the busiest airport in Greenland, Kangerlussuaq. Welcome to the Arctic Circle.
Day 2. Kangerlussuaq - Inland Ice Tour
An exciting trip to the Inland Ice Cap awaits you, with good opportunities to see muskoxen and reindeer along the way.
Day 3. Kangerlussuaq - Ilulissat. City Tour
Short domestic flight to Ilulissat. Check-in to your accommodation. Ilulissat City Tour.
Day 4. Ilulissat. Sermermiut and Icefjord Sailing
Today's theme is the magnificent Ilulissat Icefjord, with the chance to view the Icefjord on land from Sermermiut and from water during a boat cruise.
Days 5-6. Ilulissat
These days are at your leisure in Ilulissat.
Day 7. Ilulissat - Kangerlussuaq - Copenhagen
Return to Copenhagen via Kangerlussuaq.
Day 1. Copenhagen - Kangerlussuaq
Your adventure begins with a flight to Greenland's main gateway, Kangerlussuaq. Kangerlussuaq is really "just" an airport town with a population of around 600 people. Located at the end of a 190 km long fjord, there is a school, church, nursing home, leisure facilities and a few shops. Outside the town you'll find amazing scenery and wildlife. Spend the next 2 nights at Polar Lodge hostel, just 100 metres from the airport. Kangerlussuaq was founded by the Americans during World War II and was a military base until 1992. Today, it's a small civilian population, however the buildings and barracks left by the American military are now used to support the airport operations and community.
In the afternoon you have the opportunity to go on a tundra wildlife safari to watch musk oxen and reindeer. They have good living conditions in and around Kangerlussuaq.
There are also other excursion options - see here.
B / - / -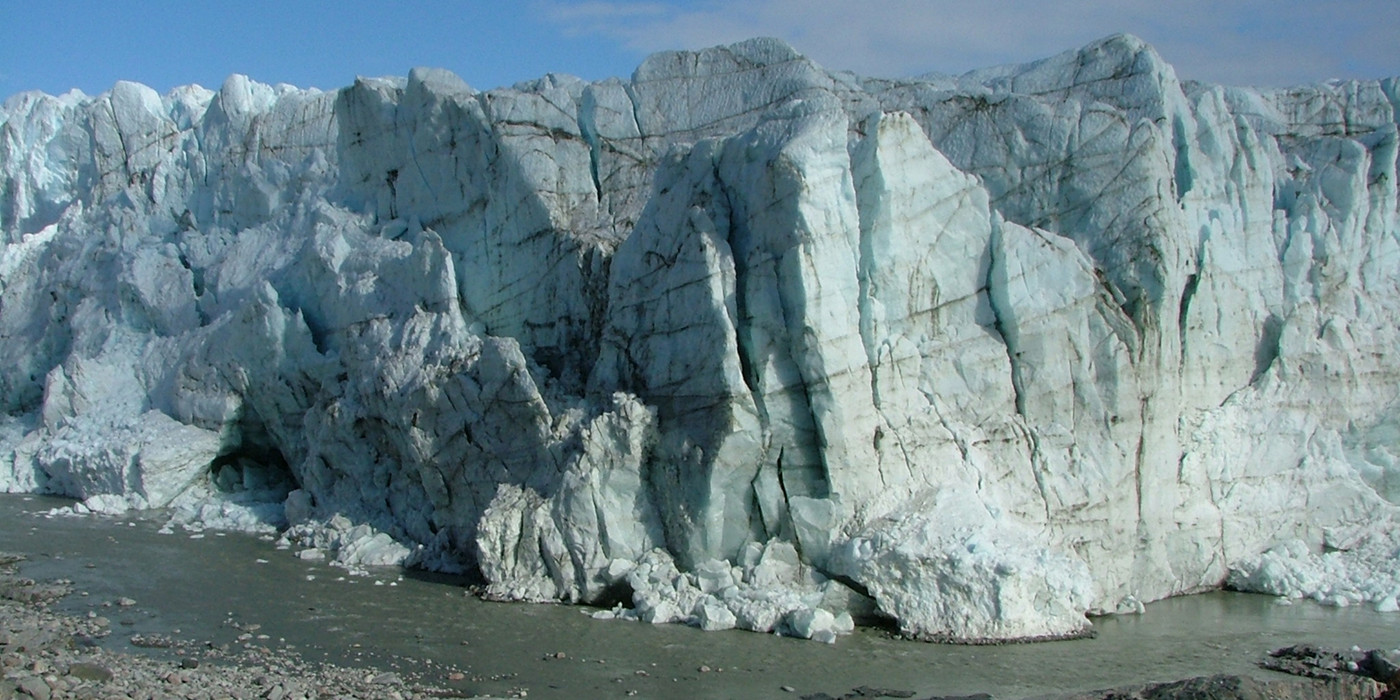 Day 2. Kangerlussuaq - Inland Ice Tour
Today's guided tour is to "Point 660" at the edge of the ice cap. The inland ice reaches the coast in many parts of Greenland, but there are few places with direct access to enable a walk on the ice. The trip takes you through tundra, valleys and rivers. If you're lucky, you may see reindeer and muskoxen. After 1½ hours driving through wilderness, the bus reaches the edge of the ice cap, and you get a true sense of scale.
This evening we recommend dinner at Restaurant Roklubben, renowned for using locally sourced produce. Ask the staff at Polar Lodge for help with booking and to check if the famous Greenlandic buffet is available this evening. Reservation is required, and includes a bus transfer. The restaurant is located 5 kilometres from Kangerlussuaq, on the bank of Lake Ferguson.
B / - / -
Day 3. Kangerlussuaq - Ilulissat. City Tour
Most people travelling to Greenland want to see glaciers and icebergs. Today you'll fly to the iceberg capital, Ilulissat. Flight time is approx. 45 minutes and in good weather you'll have a spectacular view over Ilulissat Icefjord shortly before landing.
On arrival you'll be transferred by bus from Ilulissat Airport to comfortable Hotel Icefiord, where you'll spend the next 4 nights.
This afternoon you'll take a guided walking tour to learn about Ilulissat's history and daily life.
B / - / -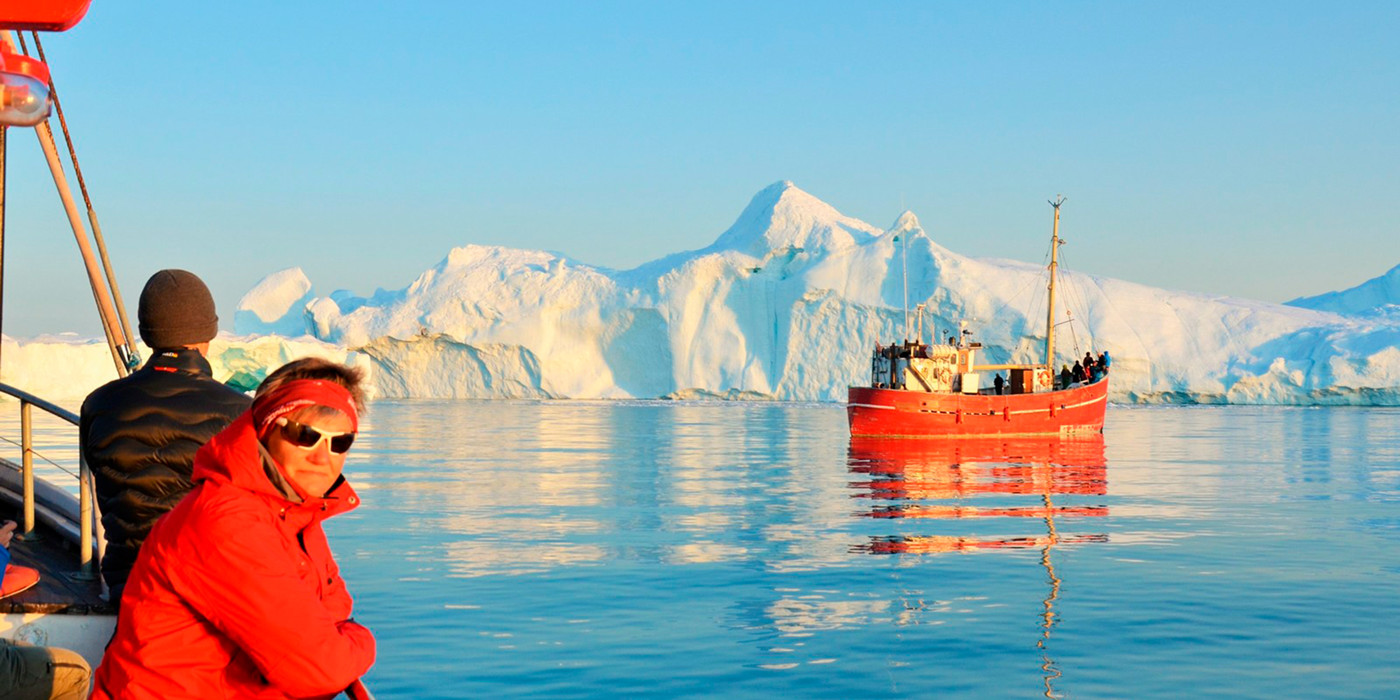 Day 4. Sermermiut Hiking and Icefjord Cruise
Today's focal point is the icefjord. Ilulissat Icefjord was admitted to UNESCO's World Heritage List in 2004. Today's guided hike will take you back thousands of years as you visit the ruins of the historic Inuit settlement of Sermermiut. Beautifully situated on the outskirts of Ilulissat, the hike is about 5 km and reasonably easy.
This evening you'll cruise among the icebergs. Many are bigger than a football field and over 100 meters high. Your guide will explain about the inland ice, glaciers and the huge icebergs which lay stranded just south of Ilulissat. Warmly dressed and with spare charged camera batteries, you'll find it easy to capture amazing photographs. The Midnight Sun paints the ice with a special glow – the colours, mood and light are amazing.
B / - / -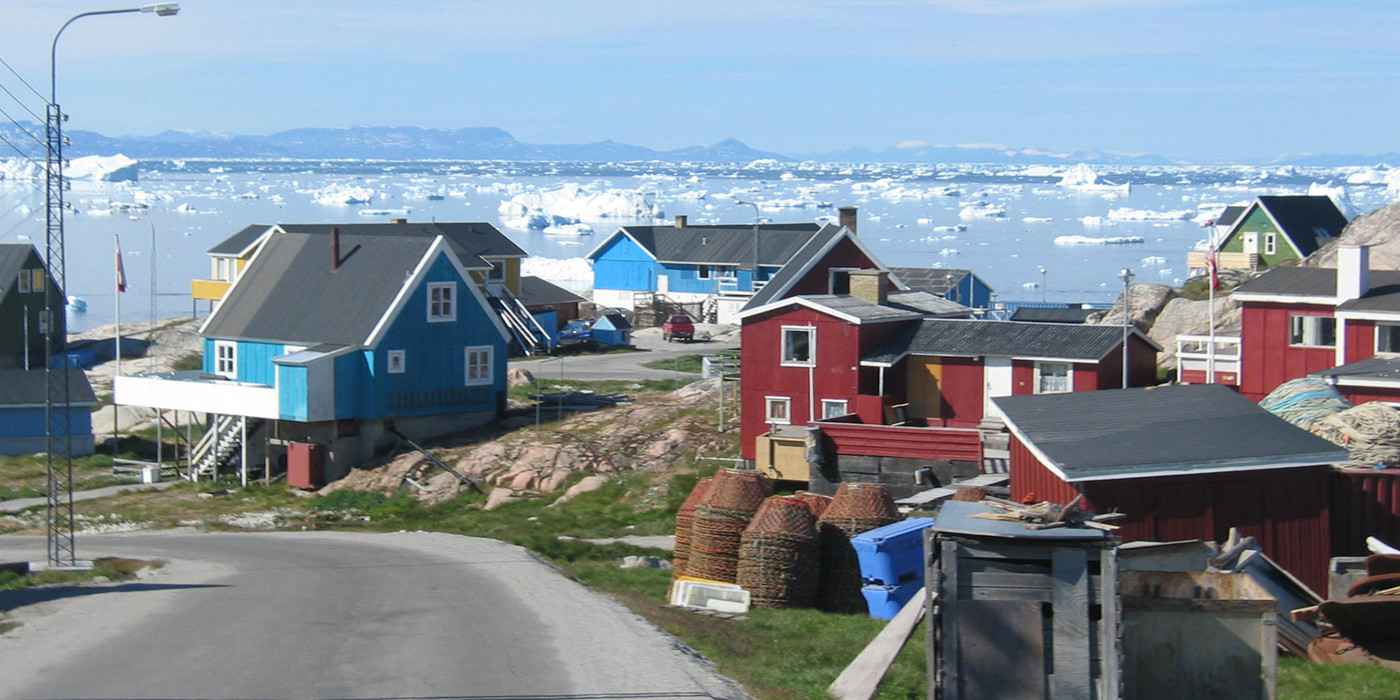 Day 5-6. Ilulissat on your own
Spring in Greenland has a very special 'mood'. The sun dictates daily life here - children play outside late into the evening and people are generally more inclined to venture out of town. You may wish to just relax and enjoy the local atmosphere around town, go to a cafe, visit the art museum or go to church on Sunday morning.
There are of course other excursions you can do. What about a boat trip or a helicopter ride to Kangia Isbræ? If you're unsure which excursions you'd like, please ask us. We've tried them all and can recommend something to suit you.
See the excursions here
B / - / -
Day 7. Ilulissat - Copenhagen (via Kangerlussuaq)
Filled with Vitamin D and lovely memories from the Kingdom of the Midnight Sun, it's now time to return home. Enjoy your last look at Disko Bay and the UNESCO protected Ilulissat Icefjord, before your short flight to Kangerlussuaq, and then onwards to Copenhagen.
B / - / D
NOTE! – Would you like to extend the journey?
If you would like more days to fully explore and experience our wonderful part of the world, we have excellent knowledge of Greenland and can tailor an itinerary according to your wishes. Please contact us for information.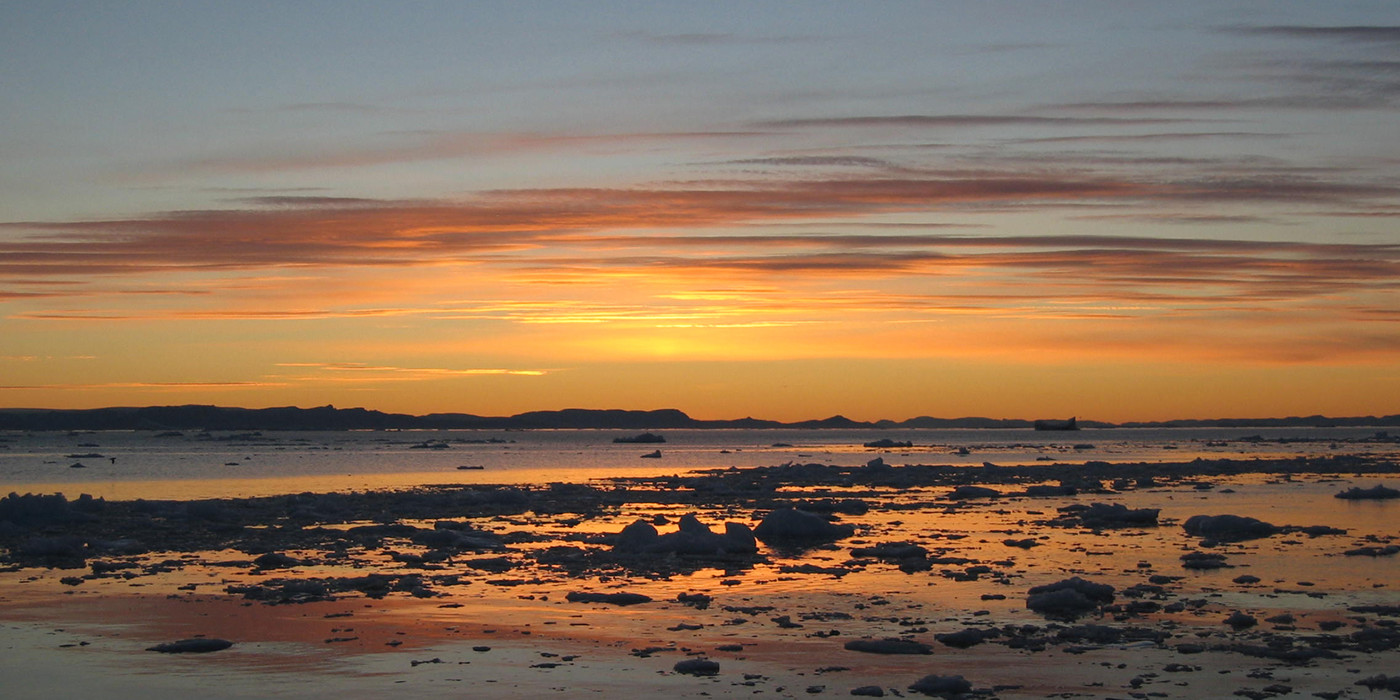 Midnight Sun Facts
During summer you can experience up to 24 hours of daylight above the Arctic Circle (66 degrees north), and the further north you go, the more nights of Midnight Sun you get. In Ilulissat (69 degrees north) there is Midnight Sun from late May to the end of July, when the sun doesn't fully set. For example, on 15th of April sunrise is at 05.20 hrs and sunset is at 21.30 hrs. However, in reality it won't be true darkness during this period, as the sun doesn't fully set for long. This gives you more time to explore!
Price Includes
Flights Copenhagen (Denmark, Europe) - Kangerlussuaq (Greenland) - Ilulissat (Greenland) incl. taxes
Flights Ilulissat (Greenland) - Kangerlussuaq (Greenland) - Copenhagen (Denmark, Europe) incl. taxes
2 nights at Polar Lodge (Kangerlussuaq) with shared facilities incl. breakfast**
4 nights at Hotel Icefiord (Ilulissat) in shared double room incl. breakfast
Excursions Kangerlussuaq: Inland Ice Tour (Point 660)
Excursions Ilulissat: City tour, Sermermiut Hiking and Icefjord Cruise
Transport from / to airport and hotel (Ilulissat)
Contribution to the Travel Guarantee Fund
All taxes and charges
** We have chosen Polar Lodge as we think it is the nicest accommodation for this trip. If you prefer a room with a private bathroom and toilet (Hotel Kangerlussuaq), this can be arranged at extra charge.
Price Excludes
Meals, except breakfast and meals on the Atlantic flight
Other excursions except those specifically mentioned in "Price Includes"
Tour guide (this trip is on your own)
Travel and cancellation insurance
Single room supplement of 2,450 DKK
Please note: The price of this trip is a base-level estimate, calculated on a certain category of seat on the flights and room/cabin category of accommodation. The actual price for your travel date may differ, according to availability at the time of booking. Please confirm with us any possible surcharges at the time of making your booking.
If you need further explanation, please feel free to contact us.
Meals
Included meals are marked with B (breakfast), L (lunch), D (dinner) on each day. If meals are not included, these are marked with -.
On Air Greenland flights between Denmark and Greenland, free meals and drinks are served on board. On domestic flights in Greenland, a cup of coffee and a biscuit is typically served.
Access to Electricity
It's possible to charge digital camera batteries at the hotels (with your own charger).
Mobile Phone
Mobile phone coverage is sparse during this trip, so there will only be limited opportunities to use your phone.
IMPORTANT NOTE!
The programme is subject to change without notice. A trip like this is dependent on good weather. There may therefore be some changes in the programme. Delays and cancellations may occur, especially in air and ship transportation.
No compensation is granted for the first 24 hours of delay or travel changes due to external circumstances. We will strive to reduce the disruption as much as possible and endeavour to provide an alternative programme or fill in the additional waiting time.